Transit Visa
Overview
Important changes to the Transit visa programme (Sub Class 771) – from 1 July 2018
From 1 July 2018, applications for the Transit visa (subclass 771) must be lodged through IMMIAccount:
Paper application for Transit visa applications can no longer be lodged at the Visa Application Centre.
For more information relating to Transit visa on the Department's website, please click here

Please Note:

VFS Global can assist applicants by completing the data entry of an application and upload the supporting documents Online on their behalf under VFS Global's Online IMMI Account by charging the approved rates. This service includes upload of the documents at the time of application and any subsequent documents as and when requested by the application processing authority only.
The service will be available with prior appointment, through the VFS Global's Call Centre. Applicants are required to bring in their Credit Card to use for payment of their Visa application. The payment can only be made Online in AUD (Australian Dollar). Applicants are encouraged to bring along all the information and supporting documents at the time of their appointment to avoid any delays.
For any further information, please call or visit your nearest Australian Visa Application centre.
Biometrics for Visa Applications:
As per the process, applicants may be required to visit a VAC for enrolling their Biometrics.
If Applicants receive an auto confirmation on the email ID provided at the time of application with the details that will be required for enrolling the Biometrics. Please click here to Schedule an Appointment.
The fee for Biometric enrolment is as follows:
BIOMETRIC ENROLMENT FEE
Biometric collection Only
AUD 50 (PKR 5730)
Mode Of Payment: Service fee is paid in cash
Visa Fees
There is no visa application charge for Transit Visa.

Service Fees :

Service Delivery Partner will charge clients a service fee for visa application lodgement and biometric collection. This is in addition to visa application charges. The service fees will be as follows and will be payable in cash at application center:

Service fee is paid in cash.
Primary Client/Applicant Fee
Application lodgement and biometric collection – Primary applicant
PKR 6,032
Biometric Only
PKR 5,730
Secondary Client/Applicant Fee
Application lodgement and biometric collection
PKR 4,222
Additional document submission – if not accompanied by a letter from the Visa Office
PKR 4,222
Please click on Additional Services for more information
Documents Required
Photo Specifications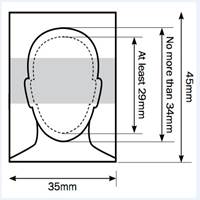 Four passport-sized photograph (please attach to the form). NB - ID photos that have been digitally enhanced or altered to improve or change appearance or remove distinguishing features are not acceptable. As the photos are required for identity purposes, if they do not represent your true appearance, your visa application may be delayed if you need to be asked to provide new photos. The photos should also meet normal passport size and pose (front on head and shoulders, no facial coverings or sunglasses).
Processing Time
For the current average processing time of visa application kindly click here.
The minimum processing time for transit visas is one month from date of lodgement. Applicants are strongly advised to consider alternate transit options via other Asian ports which will provide direct flights to New Zealand or other South Pacific locations without transiting Australia. The AHC strongly recommends that applicants do not make final travel or other arrangements on the expectation that an application will be finalized within one month of lodgement as actual processing times very significantly from application to application.
It is a mandatory requirement that applicants provide their original passports to the Australian Visa Application Centre at the time of application and provide biometrics, for which a service charge must be paid to the Australian Visa Application Centre. Applications that do not include a physical passport will be generally be refused and applicants will need to reapply with their passports.