Family Reunification to Join a EU (EEA, Swiss) Citizen (Parent)
Overview
Long stay or "national" visas, which are only valid for visits that are longer than 90 days (Type D), with one or more entries, in the territory of the Schengen State whose diplomatic representative issued the visa, and to transit through the territory of other Schengen States for a period of not more than five days.
Regulations on stays exceeding 90 days fall within the competence of Malta's national authorities and third-country nationals requesting to enter Malta with a purpose of a long stay, will at first be granted a "national" visa in order to receive a residence permit.
Visa Fees
Visa Fees applicable are listed in the table below.
| Purpose of Travel | Visa Fee For Citizens of Russia, Ukraine, Albania, Bosnia and Herzegovina, Macedonia, Moldova, Montenegro, Serbia in Rubles | Visa Fee For Other Nationality in Rubles |
| --- | --- | --- |
| Family Reunification (Parent) | 4900 RUB | 4900 RUB |
Please Note:
The applicable visa fee in Russian Rubles is as per the current exchange rate.
There is a service charge of 1850/- Rubles (inclusive of VAT) levied per application over and above the visa fees.
The fees are non-refundable.
Visa Fees is waived for the following categories of persons:
For close relatives - spouses, children (including adopted) parents (including custodians), grandparents and grandchildren-of citizens of the European Union;
For members of official delegations who, following an official invitation addressed to the Member States, the European Union or the Russian Federation, shall participate in meetings, consultations, negotiations or exchange programmes, as well as in events held in the territory of the Russian Federation or one of the Member States by intergovernmental organisations;
Members of national and regional Governments and Parliaments, Constitutional Courts and Supreme Courts, if they are not exempted from the visa requirement by the present Agreement;
Pupils, full-time course students, post-graduate students and accompanying teachers who undertake trips for the purpose of study or educational training;

Disabled persons and the person accompanying them, if necessary;

Children under 12 years old;

Persons who have presented documents proving the necessity of their travel on humanitarian grounds, including to receive urgent medical treatment and the person accompanying such person, or to attend a funeral of a close relative, or to visit a close relative seriously ill;
Participants in youth international sports events and persons accompanying them;
Persons participating in scientific, cultural and artistic activities including university and other exchange programmes;
Participants in official exchange programmes organised by twin cities.
Service Fees is waived for the following categories of persons:
Disabled persons and one accompanying person (if necessary).
Children under 6 years old.
Documents Required
One (1) completed and signed visa application form duly filled in English.
If you can't prepare the Visa Application form by yourself, our officers can fill the Visa application form for you.
Valid passport with validity of at least three (3) months after expiry of the visa and should contain at least 2 blank pages.
One (1) photocopy of passport. Optional. (Empty pages don't need to be photocopied).
You can use photocopying or printing service in our visa application center.
Two (2) recent color passport-size photographs 3,5 cm х 4,5 cm, bearing a true likeness of the applicant on white background.
Due to the stringent requirements around the Photo required for your application, we recommend you utilize the photo services available inside the Visa Application Center. This will provide you assurance that your application is submitted with the photograph that meets the specifications and will be acceptable to the Embassy. You will have ready photographs in 45 seconds.
Fees:
The cost of the service is 300 RUB for 6 photographs.
How to book:
This service can be booked at the visa application centre upon your arrival.
Confirmed travel reservation (flight, ferry, etc).
Proof of a valid travel insurance policy, either individual or group, with a minimum cover of 30,000 Euro for the Schengen area: original + copy.

The applicants are offered multiple options of insurance companies at the visa application center.

Civil status certificates proving relationship to EU (EEA, Swiss) national.
Copy Registration Certificate of EU (EEA. Swiss) national residing in Malta.

Documentary evidence proving that relative is dependent on EU (EEA, Swiss) citizen/spouse residing in Malta.

Copy of the internal passport: pages concerning the applicant's biodata and registration in Russia.
Power of attorney if not attending in person. If the third party is trying to submit documents of minor, there must be a power of attorney signed by one of the parents.
Photo Specifications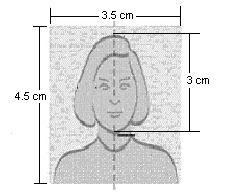 General
The photograph for each visa applicant must be an un-mounted, full face photo, colour photo as described below
The photograph must have been taken within the last six months.
Two photographs must be submitted.
Photo Size
The photo for each visa applicant submitted must measure:
35 mm x 45 mm with the head centered in the frame.
The head (measured from the top of the hair to the bottom of the chin) should measure about 30 mm
Photo Appearance
The photograph must be a full-face front view in which the visa applicant is facing the camera directly.
The face should cover about 70-80 percent of the photo area.
The photograph MUST be in colour and have only a white or light background. Photos with dark, busy, or patterned backgrounds will not be accepted
In general, the applicant's head, including both face and hair, should be shown from the crown of the head to the tip of the chin on top and bottom and from hairline side-to-side. It is preferable that ears be exposed
Sunglasses or other wear, which detracts from the face, are not acceptable unless required for medical reasons (an eye patch, for example).
A photograph depicting a person wearing a traditional facemask or veil that does not permit adequate identification is not acceptable.
Note: Please follow these instructions carefully. If photographs presented do not meet these requirements your application will be considered incomplete.
Processing Time
Processing time 15 days excluding the time of delivery of passport s from regional visa cetnres to Consulate in Moscow. In case an application needs to be referred to The Maltese Immigration Service, processing time will be a minimum of six weeks. Processing time for applications accepted at regional visa centres increases for the time required for delivery of passports to Moscow and back from Moscow to the regional visa centre.
Processed passports can be collected from The Malta Visa Service Centre between 11:00 -16:00.
Download Forms
This page hosts the form required for your Visa Application. Please click on the relevant form to download your visa application form.
Check-lists:
Attention! For a child inserted into a parent's passport a separate Visa Application Form is filled.
Number of pages: 4
The form must be printed back-to-back
You can also obtain this form from the visa section of The Embassy of Malta, Moscow or from The Malta Visa Application Centre.
To Download a Form:
Click on the form link
When the form opens, save the form on your computer.
OR
Press the right button on your mouse on the required link.
Select Save Target As from the list
Save the form on your computer.