Caribbean Visa
Overview
Travelling to the Caribbean parts of the Kingdom of the Netherlands
The Caribbean parts of the Kingdom of the Netherlands consists of:
Aruba
Curaçao
Sint Maarten
Bonaire
Sint Eustatius
Saba
Aruba, Curaçao and Sint Maarten are autonomous countries within the Kingdom.
Bonaire, Sint Eustatius and Saba (also referred to as the BES islands) are special municipalities of the Netherlands and constitute the Caribbean Netherlands.
Short stay (<90 days)
To find out whether you require a visa for short stay in the Caribbean parts of the Kingdom, please consult the following weblink: Click here
See the links below for detailed information on travelling to the Caribbean parts of the Kingdom:
Travel without visa:
Visa short stay (<90 days):
Long stay (>90 days):
If you want to stay in the Caribbean parts of the Kingdom for longer than 90 consecutive days, you need to have a residence permit. Residence permits are issued by the competent authority of the country where you wish to move to.
Visa Fees
Applicants applying at the Netherland Visa Application Centre shall be levied a service charge of OMR 11.300 (Euro 27) payable in cash and the Schengen Visa fee mentioned as below:
| Visa | Euro | OMR |
| --- | --- | --- |
| Caribbean Visa (max. 30 days) | 35 | 15.30 |
* The European Union has concluded visa facilitation agreements with these countries.

Adult nationals of Albania, Serbia, Bosnia and Herzegovina, Macedonia, Montenegro are exempt from the visa requirement, provided that they hold a valid passport containing biometric data (fingerprints and facial image).

The Visa fees can be paid by Cash only. It is subject to change without notice. The fee is non-refundable.

The following categories do not have to pay the Schengen visa application fee:

children under six years of age
Nationals from Armenia* and Azerbaijan under 12 years old
pupils, students, graduates and accompanying teachers who are travelling for educational purposes
scientific researchers if invited by scientific institutions
The spouse, registered partner and children below 21 years of age as well as other dependent direct family members (children or parents from applicant or partner) of non-Dutch EU/EER Nationals travelling to or residing in another member state than that of which he/she is a national
Representatives of non-profit organizations aged 25 or less, participating in seminars, conferences, sports, or cultural or educational events
work-related visa for applicants employed by Dutch based International Organizations (OPCW/Intern. Tribunal, Unesco/ IHE/ ITC/ International Criminal Court (ICC)) and their family members who form permanently part of the household.

Please note that satisfactory proof must be submitted to establish that one of the above exemptions applies.

The visa application fee is fixed in Euros but payable in local currency. The exchange rate between these currencies is decided by the Government of the Kingdom of the Netherlands and is updated periodically.
| ADDITIONAL SERVICE | AMOUNT IN OMR |
| --- | --- |
| Courier Delivery of the passport | OMR – 6.000 per application |
| SMS Service | OMR – 0.800 per application |
| Photocopy | OMR – 0.200 (per page) |
All optional services are non-refundable.
VISA Fee Exemption:
The following pay no fee:
Children under six years of age.
School pupils, students, research students and accompanying teachers on study or training trips.
Third-country researchers travelling for the purpose of pursuing scientific research.
Representatives of non-governmental organizations who are aged 25 or under, who take part in seminars, conferences, sports events, cultural events or educational events organized by NGOs.
Documents Required
Photo Specifications
Photograph Quality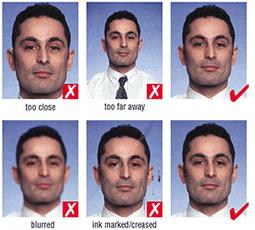 The photographs must be:
The photographs must be:
No more than 6-months old
35-40mm in width
Close up of your head and top of your shoulders so that your face takes up 70 -80% of the photograph
In sharp focus and clear
Of high quality with no ink marks or creases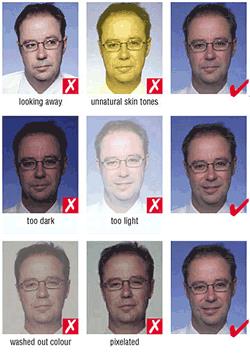 The photographs must:
Show you looking directly at the camera
Show your skin tones naturally
Have appropriate brightness and contrast
Be printed on high quality paper, and at high resolution Photographs taken with a digital camera must be high quality colour and printed on photo-quality paper.
Style and lighting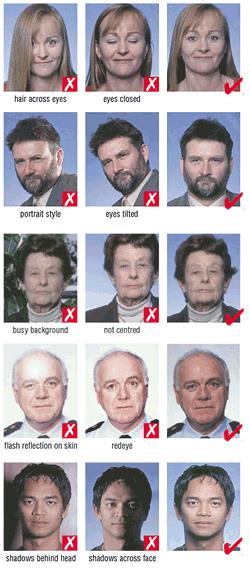 The photographs must be:
Be colour neutral
Show your eyes open and clearly visible-no hair across your eyes
Show you facing square on to the camera, not looking over one shoulder (portrait style) or tilted, and showing both edges of your face clearly
Be taken with a plain light-coloured background
Be taken with uniform lighting and not show shadows or flash reflections on your face and no red eye
Glasses and head covers
If you wear glasses:
Be colour neutral
The photograph must show your eyes clearly with no flash reflection off the glasses, and no tinted lenses (if possible, avoid heavy frames - wear lighter framed glasses if you have them)
Make sure that the frames do not cover any part of your eyes.
Head coverings :
Are not permitted except for religious reasons, but your facial features from bottom of chin to top of forehead and both edges of your face must be clearly shown.
Expression and frame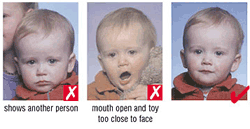 Your photographs must:
Show you alone (no chair backs, toys or other people visible), looking at the camera with a neutral expression and your mouth closed.
Processing Time
The Caribbean visa is not valid for travel to Schengen.
The legal processing time for a Schengen visa is 15 calendar days. Please note that your passport will be kept during the visa application process.
Please Note: - Your Documents will be sent for Evaluation to the Regional Support Office in Amman (Jordan)
The Visa processing time is approximately 15 days from the date of submission of the application. However in certain cases, it may take longer and we are unable to advice when the passport will be received as the processing of the visa application is at the sole discretion of the Regional Support Office in Amman (Jordan )
Please be advised that due to the above mentioned minimum processing time, we are not able to guarantee the return of passports by specific dates for travel.
Please be sure to submit your visa application well in advance, to avoid any inconveniences.
Download Form
 Visa Application form valid until 31 December 2016 Please click here to download
Visa Application from valid from 01 January 2017 ( Please click hear to download )
To download the Application Form:
Click on the form link
When the form opens, save the form on your computer.
OR
Press the right button on your mouse on the required link.
Select Save Target As from the list

Save the form on your computer.