Tourism
Overview
Tourist visa is granted for those applicants who intend to visit Ukraine for tourism and sightseeing without having an invitation from a Ukrainian referent.
Visa Fees
| CONSULAR FEE PER APPLICANT |   Philippine Peso (PHP) |
| --- | --- |
|  Normal Processing Fee |  PHP 3832.50 |
|   Urgent Processing Fee | PHP 7391.25 |
NOTE:
There will be a PHP 580.00 bank charge fee.
VFS Logistics Fee of PHP 1155.00
Shipping Fee of PHP 1850.00
Starting 14 October 2019, payment for visa fees will be in PHP only and directly paid at the VFS Visa Application Center. Double rates of consular fee shall apply in case of urgent processing. To know more about other Consular charges please click here
Fees are not refunded in case of a visa refusal.
These categories of applicants are issued with visas upon a zero fee:
children under 6 years;
persons of Ukrainian descent upon a Certificate of a person of Ukrainian descent, as well as their spouse and children;
persons travelling to Ukraine with official purpose and holding diplomatic/service passport;
staff of foreign diplomatic missions/consulates to Ukraine and their family members;
staff of international organizations, their branches/offices in Ukraine and their family members;
staff of foreign states' missions to international organizations headquartered in Ukraine who are covered with diplomatic privileges and immunities as well as their families' members;
heads of foreign official delegations, their accompanying staff visiting Ukraine upon an invitation of the President of Ukraine, the Verkhovna Rada of Ukraine (the Parliament), the Cabinet of Ministers of Ukraine or the Ministry of Foreign Affairs of Ukraine;
Ukraine's honorary consular officials;
persons travelling to Ukraine to implement international technical assistance projects upon an invitation of Ukraine's state authority/entity/organization which is a recipient of such international technical assistance projects;
staff of foreign emergency / rescue authorities who enter Ukraine in order to aid with elimination of the aftermath of an emergency / accident upon an invitation of Ukraine's Emergencies / Accidents Service;
military personnel visiting Ukraine with official purpose upon invitation of the relevant ministry / other central executive authority;
election observers delegated by foreign states and international organizations to observe presidential, parliamentary, local elections / national referendums upon lists provided to the Ministry of Foreign Affairs by Ukraine's Central Election Committee;
other persons visiting Ukraine in order to implement projects in foreign policy / humanitarian aid areas upon the invitation of the head of the relevant authority and confirmation of the Ministry of Finance.
Documents Required
signed visa application form;
applicant's valid passport/travel document;
1 applicant's photo (35 * 45 mm);
Flight reservation (copy of the round trip airline reservation); no issued ticket required at the time of application
residence documents – valid residence permits/equivalents (in cases where applicants reside in a country that is different from the country of their nationality/citizenship);
proof that the applicant is a holder of (or is entitled to benefit from) a valid medical/travel insurance policy to cover Ukraine and the period of stay (the policy should provide a minimum of €30 000 or equivalent coverage);
proof of sufficient funds to cover the costs of stay (e.g. bank statement for 2 recent months, cash in Ukrainian hryvnia/other convertible currency, bank cards along with current/savings account balance statements provided the bank cards can be cashed in Ukraine, hotel/accommodation booking, letter from the applicant's employer/sponsor confirming their coverage of applicant's expenses in Ukraine, a return/transit ticket etc);

proof that the applicant's main purpose of journey to Ukraine is tourism (hotel/accommodation booking(s), programme of stay, information on the tour(s) and the tour(s') timeframes, tourist agency details, transfer details, sightseeing information etc.).

Please note that applicants might be asked for additional documents by Ukraine's visa officers (e.g. return flight tickets and other documents confirming applicants' circumstances (to be defined by Ukraine's visa officers of the relevant Embassy/Consulate General).
Photo Specification
A Photograph submitted with the application form should comply with the following specifications: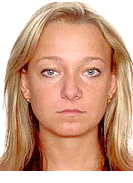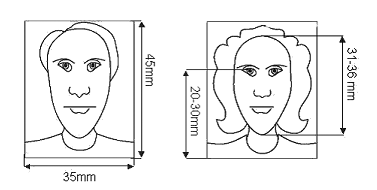 Must be an up to date photograph (not more than 6 months old)
Must be a colour photograph printed on normal photographic paper
Should be passport sized 3,5 х 4,5 сm
Face should take 70-80% of the photograph
The size of the face from the bottom of your chin to the hairline must be between 31mm and 36mm
The background shall be plain and light coloured
Without sunglasses
Without hat or other head covering unless you wear this for religious reasons
Spectacles should not have toned or reflecting glasses
The frame of the spectacles may not cover the eyes
The mouth must be closed
Please note that photos that do not comply with these standards are not accepted.
Processing Time
Usually decision on a visa application is made within a period of 10-30 calendar days excluding day of submission. It is advised to submit visa application at least 30 calendar days before the intended visit. A visa application cannot be submitted earlier than three months before the intended date of travel.
In some cases, which are exclusively determined by the Embassy, processing time can be extended up to 30 working days.
Processing procedure and time are solely of competence of the Embassy of Ukraine to Malaysia.
Please note, that the Embassy has the right to refuse fast track procedure. Also, the Embassy can refuse procession of the application in case application in not admissible as defined by the Visa legislation.
Urgent processing of visa application may take up to 5 working days. Urgent processing is possible if the urgency if fairly proven. The Consular section does not guarantee that the decision will be taken in the frame of terms, as occurrence of necessity of additional consultations is possible. Urgent procedure also implies that all the supporting documents are present and the application DOES NOT needs more information for decision taking.
Forms
Please note that one can use the Form Filling service for the convenience of the applicants at the centre. Feel free to contact the VAC staff to know more about the Form Filling service.
Forms listed below must be filled in completely and must be signed by the applicant himself/herself.
Visa application form can be filled in online and then printed out.