Medical Treatment
Overview
This visa is designed to allow patients to travel to Australia for medical treatment or medical consultations.
Who should apply?
This visa is for you if you are either:
planning any medical treatment or consultations in Australia except surrogate motherhood
travelling to Australia to donate an organ
accompanying or providing support to the person needing treatment
For detailed information on Medical Treatment visa kindly click here.
Visa Fees
The Visa Fees and VFS Service Charge are applicable per application.
| VISA CATEGORY | VISA FEE IN AUSTRALIAN DOLLAR(AUD) | VISA FEE IN INDIAN RUPEES (INR) |
| --- | --- | --- |
| Medical Treatment Visa <3 months (subclass 602) | Nil | Nil |
| Medical Treatment Visa >3 months (subclass 602) | Nil | Nil |
VFS Global Service Charge
In addition to the Visa Fees, applicant is required to pay the VFS Global Service Charge (inclusive of all taxes), as listed below.
Primary Client/Applicant Fee
Application lodgement Primary applicant
INR 1248.00
Secondary Client/Applicant Fee
Additional document submission – if not accompanied by a letter from the Visa Office
INR 874.00
* Additional Document Submission charge is applicable for passport / documents submitted after the lodgment of visa applications with VFS Global.
Mode of Payment of VFS Fees:
VFS Service fee is payable by Credit/Debit Card or Cash or Demand Draft favouring "VFS Global Services Pvt Ltd" payable at the city where the application is submitted.
VFS will accept all Visa, Master and Maestro cards.
For Postal Applications, the VFS Global Service Charge Demand Draft should be in favour of "VFS Global Services Pvt Ltd" payable at the city where the application is couriered.
See: Postal Application
Click here for more information on various other Additional Services offered by VFS Global.
Documents Required
For detailed information on Medical Treatment Visa kindly click here
Notice to all Visa Applicants – Acceptable Passport Copies
The Australian High Commission accepts two formats of passport copies:
Notarized copies of ALL pages, blank or otherwise; or
Copies certified by VFS.
The High Commission strongly recommends clients carry their original passports with them when they lodge at VFS to avoid any issues: https://www.india.embassy.gov.au/ndli/Visas_and_Migration.html. Unacceptable copies – missing pages or un-certified/un-notarized pages – can lead to adverse visa decisions. There is no obligation on the High Commission to request acceptable copies after lodgment and your application will be delayed.
Photo Specifications
Two passport-sized photograph (please attach to the form). NB - ID photos that have been digitally enhanced or altered to improve or change appearance or remove distinguishing features are not acceptable. As the photos are required for identity purposes, if they do not represent your true appearance, your visa application may be delayed if you need to be asked to provide new photos. The photos should also meet normal passport size and pose (front on head and shoulders, no facial coverings or sunglasses).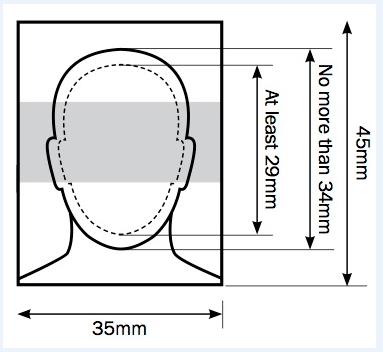 Processing Time
For the current average processing time of visa application at Australian High Commission New Delhi kindly click here.
Note: The processing time does not include the transit time taken in forwarding the visa application from Australian Visa Application Centre to Australian High Commission, New Delhi.