Business Visa
Overview
The Embassy of the Republic of Hungary in the United Kingdom is pleased to announce the opening of its Visa Application Centre operated by VF Services (UK) Limited in London and Edinburgh
For Prospective Applicants
If you wish to apply for a visa for Hungary, we strongly recommend that you read all information on this site. The provided guidelines will help you prepare your application as accurately as possible and prevent any processing delays.
Important – ALL applicants travelling must book an appointment and be present at the date and time of the visa application, including children/infants
To find out if you need a visa to visit Hungary, please go to Do I need a visa?
VISA Fees
There is a service charge of £24 (inclusive of VAT) per application in addition to the visa fees payable by all applicants
| Visa Category | Visa Fee in Euros | Visa Fee in GBP |
| --- | --- | --- |
| Business Visa | 60 | 51.00 |
Please Note:
For countries with a visa facilitation agreement with the European Union (Nationals of national of Albania, Armenia, Azerbaijan, Bosnia and Herzegovina, Cape Verde, Macedonia, Moldova, Montenegro, Russia, Serbia, Ukraine.) and children between the ages of 6-12 years, the Schengen visa fee amounts to £30.00.
The applicable visa fee in Pound Sterling (£) is as per the current exchange rate. It is subject to change without notice. The fee is non-refundable.

The following categories of applicants are exempted of Visa fees only:

Children under 6

The Special Delivery facility for the return of processed applications is available at a fee of £14.95 (Inclusive of VAT) per application. This is an optional service.
The SMS facility for updates on your application is available at a fee of £1.95 (Inclusive of VAT) per application. This is an optional service.
The Visa fees can be paid by cash, credit/debit card or postal orders in the name of "Hungary Visa Application Centre".
Cheque payments and direct bank transfers are not accepted.
All fees are non-refundable.
Documents Required
Fully completed Application Form
Original and copy of Passport, with at least 2 blank visa pages, valid for at least 90 days beyond the return date of the trip to the Schengen Area, and not issued more than 10 years ago as of the date of return of the scheduled trip. The same applies to passports more than 10 years old that have since been extended.

Original and copy of UK Residence permit valid for at least 90 days beyond the return date of the trip to the Schengen Area (If card type please copy both sides)
One recent photo (not older than 6 months) colour passport size, photos with white background. See Photo Specifications tab at top of page.
Last 3 months pay slips/ salary slips
Recent (i.e. last three months) United Kingdom bank statement in the applicant's name and address showing details and a balance showing that the applicant has sufficient means of subsistence both for the duration of the intended stay and for the return to the United Kingdom or his country of origin, or that the applicant is in a position to acquire such means lawfully, in accordance with Article 5 (1) and (3) of the Schengen Borders Code
Letter from employer which must be original, mentioning purpose of travel / Local documentation demonstrating status as financial – commercial Operator. Letter needs to be signed with original signature from employer, and must be on company headed letter with name, position of signatory, date of issue, address and recent telephone number and VAT registration number in the United Kingdom.
If self-employed (e. g – company registration, letter from finance department providing information of company). Letters must be original only and recently dated (on headed letter with name, position of signatory, and date of issue, address and recent telephone number and registration number in the United Kingdom)

An original, signed Invitation Letter, not older than one month from a company or an authority to attend meetings, conferences, proof of registration, or events connected with trade, industry or work. – Other documents which show the existence of trade relations for work purposes.

Entry tickets or registration for fairs and congresses.

Travel insurance covering the intended period of stay with a minimum Coverage of EURO 30,000 for emergency hospital and repatriation expenses. A presentation of the Credit Card and copy of proof if your travel Insurance is covered by the Credit Card company
Proof of confirmed return tickets to the United Kingdom or to the country of final destination.
Accommodation: Hotel Bookings for your full stay in the Schengen area or any other appropriate document stating the planned accommodation Deeds of property.

A photocopy of all the above documentation.

All supporting documents must not be older than 1 month

No documentation will be returned with your passport, so unless specifically requested please do not give original documents such as birth certificates, marriage certificate's etc. Only copies of such documents should be submitted with your application.

Please note- applicants traveling for a conference should provide documents according to the Tourist checklist
Photo Specifications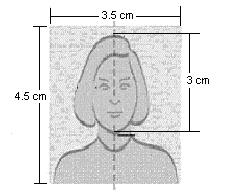 Note: We regret we cannot accept photographs that do not meet these requirements
Please provide one recent photograph (not more than 6 months old) of yourself. The photograph should be in colour and:
Taken against a light background (white or off-white) so that features are distinguishable and contrast against the background.
Clear quality and with the face in focus.
Printed on normal photographic paper (camera print).
Full face, non-smiling [without sunglasses, a hat/cap or other head covering, unless the applicant wears such items because of their religious belief or ethnic background].
Please stick the Photograph on the Visa Application Form. Upon your arrival to the Visa Application Centre further requirements may be requested.
Note: Please follow these instructions carefully. If photographs presented do not meet these requirements your application will be considered incomplete. Photo booth meeting these requirements is available at the centre.
Processing Time
The visa processing time is a minimum of 15 working days provided that a complete file is submitted. But, it may take longer in certain cases.
Applications accepted at the Hungary Visa Application Centre in London will be submitted the next working day to the Embassy of the Republic of Hungary for processing.
When applying in Edinburgh, applicants should allow an extra 2 – 3 days minimum for their applications to be processed.
Please check the following LINK to ascertain any dates that the consulate will be closed, as this will also affect the processing time of your application.
All visa decisions are solely at the discretion of the Embassy of the Republic of Hungary, London
Application Form
DOWNLOAD INSTRUCTIONS:
To Download a Form:
Click on the form link
When the form opens, save the form on your computer.
OR
Press the right button on your mouse on the required link.
Select Save Target As from the list
Save the form on your computer.