Tourist
Overview
Every applicant, including children/infants, has to submit his/her Schengen visa application in person and by appointment only on their appointment date, which needs to be booked online (see Schedule an Appointment) by the applicant.
For Non EU citizens who are not sure whether a Schengen visa is required to travel to the Schengen Area, please click Do I need a visa? to find out.
Applicants, who intend to travel purely for tourist purposes, i.e. visiting for leisure, recreation or sightseeing, and provide for their own accommodation (hotel, hostel, B&B, camping, …) need to apply as Tourist.
Eligibility
Applicant must at least meet the following criteria in order to be eligible to submit a Schengen visa application:
holding a valid passport/travel document
holding a valid UK residence permit. In case applicant holds a short stay visa for the UK, a C type visa (see example here), then applicant needs to apply for a Schengen visa from his/her residence country
applying for a short stay visa: Tourist (including Minors), Visitor Family/Friends, Business, EEA/EU and Swiss national family member or Airport Transit
VISA Fees
| | Visa fee (in Euro) | Visa fee (in GBP) | VFS Service fee (in GBP) |
| --- | --- | --- | --- |
| Tourism/Visitor Family & Friends/Conference | 60 | 53 | 24.61 |
| Business | 60 | 53 | 24.61 |
| Airport Transit | 60 | 53 | 24.61 |
| EEA/EU and Swiss national family member | 0 | 0 | 24.61 |
| Nationals of countries with a visa facilitation agreement with the European Union: Albania, Armenia, Azerbaijan, Bosnia – Herzegovina, Cape Verde, Georgia, Macedonia, Moldova, Montenegro, Russian Federation, Serbia and Ukraine | 35 | 31 | 24.61 |
| Children between 6 and 12 years old | 35 | 31 | 24.61 |
| Children less than 6 years old | 0 | 0 | 24.61 |
| EXEMPTION VISA FEES | | | |
| Organised groups of school pupils/students accompanied by teachers on study/educational trip; only applicable if applicants have a formal invitation from an educational institution in Hungary. | 0 | 0 | 24.61 |
| (scientific) researchers from third countries | 0 | 0 | 24.61 |
| Representatives of non-profit organisations (up to 25 years old) actively participating in conferences/events (sports, cultural or educational) organised by non-profit organisations. | 0 | 0 | 24.61 |
Applicable visa fee, in Pound Sterling (£), is as per the current exchange rate and may be subject to change without notice.
VFS service fee (inclusive of VAT) is charged per visa application, in addition to the applicable visa fee.
All fees can be paid by cash (except in Edinburgh), Credit/Debit card or Postal Orders in the name of "Hungary Visa Application Centre".
Cheque payments and direct bank transfers are not accepted.
All fees are non-refundable.
Documents Required
Fully completed Application Form
Original and copy of Passport, with at least 2 blank visa pages, valid for at least 90 days beyond the return date of the trip to the Schengen Area, and not issued more than 10 years ago as of the date of return of the scheduled trip. The same applies to passports more than 10 years old that have since been extended.

Original and copy of UK Residence permit valid for at least 90 days beyond the return date of the trip to the Schengen Area (If card type please copy both sides)
One recent photo (not older than 6 months) colour passport size, photos with white background. See Photo Specifications tab at top of page.
Last 3 months pay slips/ salary slips
Recent (i.e. last three months) United Kingdom bank statement in the applicant's name and address showing details and a balance showing that the applicant has sufficient means of subsistence both for the duration of the intended stay and for the return to the United Kingdom or his country of origin, or that the applicant is in a position to acquire such means lawfully, in accordance with Article 5 (1) and (3) of the Schengen Borders Code
Letter from employer which must be original, mentioning purpose of travel / Local documentation demonstrating status as financial – commercial Operator. Letter needs to be signed with original signature from employer, and must be on company headed letter with name, position of signatory, date of issue, address and recent telephone number and VAT registration number in the United Kingdom.
If self-employed (e. g – company registration, letter from finance department providing information of company). Letters must be original only and recently dated (on headed letter with name, position of signatory, and date of issue, address and recent telephone number and registration number in the United Kingdom)
For students a recent (not older than 1 month) original letter from the University is required.

An original, signed Invitation Letter, not older than one month from a company or an authority to attend meetings, conferences, proof of registration, or events connected with trade, industry or work. – Other documents which show the existence of trade relations for work purposes.

Entry tickets or registration for fairs and congresses.

Travel insurance covering the intended period of stay with a minimum Coverage of EURO 30,000 for emergency hospital and repatriation expenses. A presentation of the Credit Card and copy of proof if your travel Insurance is covered by the Credit Card company
Proof of confirmed return tickets to the United Kingdom or to the country of final destination.
Accommodation: Hotel Bookings for your full stay in the Schengen area or any other appropriate document stating the planned accommodation Deeds of property.

A photocopy of all the above documentation.

All supporting documents must not be older than 1 month

No documentation will be returned with your passport, so unless specifically requested please do not give original documents such as birth certificates, marriage certificate's etc. Only copies of such documents should be submitted with your application.
Photo Specifications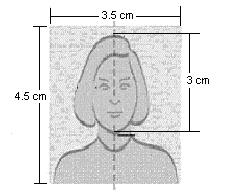 Please provide one recent colour photograph (not more than 6 months old) of yourself, meeting the following requirements:
Taken against a light (white or off-white) background so that features are distinguishable and contrast against the background.
Clear quality and with the face in focus
Full face: non-smiling, no sunglasses, no hat/cap or any head covering, unless the applicant wears such items because of his/her religious belief or ethnic background
Printed on normal photographic paper (camera print)
Photograph attached (glued-paper clipped) to the Visa Application Form
If the photographs presented do not meet these requirements (see examples here), then the visa application will be considered incomplete and applicant will be asked to take new photographs in the photo booth in the visa application centre.
Processing Time
Every applicant can submit his/her Schengen visa application up to 3 months before the intended travel date to the Schengen Area.
The mimimum processing time of a visa application is 15 working days, so applicants are advised to leave enough time - between the appointment date and travel date - for the Mission to process their visa application; no guarantees can be given on the visa application's return date as delays may occur.
In order to avoid any delays in the visa application process, it is paramount that the visa application is complete and its documents submitted are as per the Mission's requirements (see Documents Required for the different visa categories).
Applicants also need to be aware that, especially during busy season around Easter, Summer holidays (July and August) and Christmas, the appointments (see Schedule an Appointment) are being booked very quickly as the Mission only processes a fixed amount of visa applications on a daily basis.  
Furthermore applicants need to consider that VFS/Mission's closures and holidays (see Public Holidays/Closures) may extend the visa application processing time.
Therefore VFS recommends all applicants:
to book their appointment as soon as they know they'll be travelling
to ensure that their visa application's documentation meets the Mission's requirements
to leave enough processing time for the Mission
Applicants submitting their visa application in our satellite centre in Edinburgh, need to calculate 2 extra days to their minimum processing time as their visa application will first be dispatched to the VFS London office, from where it is forwarded to the Mission in London the following day.
The Mission may always request for additional information/documents or invite applicants for an interview during the visa application process and this may cause delays in the visa process, which applicants accept responsibility for.
Application Form
For Hungary every applicant needs to provide a signed printout from a Schengen visa application form (VAF).
Therefore each applicant first needs to download and print the Schengen visa application form as follows:
Select File in Menu bar
Select Print & confirm Printing
or alternatively:
Right click Schengen Visa Application form
Select Print target & confirm Printing
Once the Schengen visa application form has been printed, then applicant needs to finish the remaining steps:
Duly complete the printed visa application form (as per the passport's details)
Sign the completed visa application form in the designated places (1 signature right under the disclaimer at the end of the VAF)
Bring the signed visa application form with the supporting documents on his/her appointment day (see Schedule an Appointment).