Film Visa
Overview
Overview:
Prior authorization of the Indian Government is mandatory for any audiovisual reporting/ shooting of documentary films in India, regardless of their subject, category or duration. These include documentary films, reportages, institutional or educational films, radio documentary, still shoots, corporate videos, television commercials and publicity, or any other audiovisual report meant for public diffusion or telecast.
Please Note: Feature films/Reality shows/Commercial TV serials: The Ministry of Information and Broadcasting is the nodal ministry to process requests for a shooting of feature films, reality TV shows and Commercial TV serials in India. For further information, please contact Joint Secretary (Films), Ministry of Information & Broadcasting at jsfilms.inb@nic.in or fax to +91-11-23073775.
Foreign Audio Visual Agencies intending to shoot documentary films/AV commercials should send the completed application form and signed undertaking (placed below) to the officer responsible for Press and Information work in the High Commissions of India for processing. Once the proposal is approved, the Indian missions abroad will issue Journalist ('J') visa for travel to India for filming. Documentary filming is not permissible on other types of visas (e.g. tourist/business visas). Import of only filming equipment is facilitated upon issue of the clearance.
The usual processing time is up to 15 working days. However, it is underlined that the processing time is approximately up to 15 weeks if the filming proposal involves (a) sensitive issues or if the itinerary includes restricted/protected/prohibited or vulnerable zones, reserve forests (b) underwater or aerial filming, as these cases all require prior and mandatory clearance from different Ministries and authorities in India. Click here to open/download Terms & Conditions for Filming (imposed by Ministry of Environment and Forests) pdf
Applications for aerial filming are to be directly submitted to the Directorate General of Civil Aviation, under intimation to the High Commission of India, London. Information is available on the website http://www.dgca.nic.in/forms/forms.htm.
Please note that the authorization number is indicated on the visas of the filming crew, therefore no visa can be accorded before the clearance is issued.
Visa Fees
Service Charge* - All the applicants are requested to include the service fee of £7.44 per application while organising their payments.

Mode of payment could be Online (if made an application online) Cash, Debit Card (we do not accept credit card), Postal Order or Bank Draft payable to "VF Services UK Ltd".
UK Nationals
S. NO
Country
Validity
Fee's GBP
VFS Service Charges
Total
1
UK
Up to 1year
109
7.44
116.44
The fee in the table is inclusive of the £3 Consular Surcharge.

Applicants holding Japanese Passport(s) please refer to the table below for applicable visa fees.
Visa Fees Chart (Japanese)
Passport
Validity
Fees GBP (£)
Additional Charges (£)
VFS Service Charge (£)
Total(£)
Japanese Nationals
Up to 1 year
9
0
7.44
16.44
Additional Charges (in addition to the Visa Fee)
Fee Chart for other countries 
Passport
Validity
Fees GBP (£)
VFS Service Charge (£)
Total(£)
Nigerian
Up to one year -Multiple Entry 
173
7.44
180.44
Ukrainian
Up to one year - Multiple Entry
91
7.44
98.44
Ukrainian
Up to 6 months - Multiple Entry
62
7.44
69.44
Russian
Single Entry
Double Entry
Multiple Entry 
31
65
85
7.44
7.44
7.44
38.44
72.44
92.44
Mozambique
Up to Six months
Up to 1 year
152
206
7.44
7.44
159.44
213.44
USA
Up to 1 year
96
7.44
103.44
Visa Fees Chart  all other countries (except for the ones advised above )
Type of Visa
Validity
Fees GBP (£)
VFS Service Charge (£)
Total
Film
Up to 1 year
85
7.44
92.44
The fee in the table is inclusive of the £3 Consular Surcharge.
Please Note: All visa fee once tendered are non–refundable
Documents Required
Documents Required-
Passport valid for a minimum of 180 days with at least two blank pages.
Correct visa fee.
Two recent 50 mm * 50 mm size photographs. Please check the Photo Specification
Filled application form* and declaration (all the columns of the form are mandatory and must be filled). (Printed and duly signed)



*All applicants are requested to make an appointment before visiting our centers to submit their visa applications. Applicants holding dual nationality, while filling up the online application form, should select the current nationality as the nationality of origin. Same nationality details need to be filled in the section B & British or the second nationality passport details to be filled in the field 'Any other Passport/Identity Certificate held', in the same section.

In case you are unable to make an appointment kindly ensure:

you have allowed one working day before the making an appointment.

UK passport holder need to ensure that they have filled in the nationality correctly – as United Kingdom. Appointment system does not recognize the below nationalities

UK British Dependant Territories Citizen
UK British National (Overseas)
UK British Overseas Citizen
UK British Protected Person
UK British Subject

In case if the nationality has been chosen as any of the above, kindly fill up a new application form and make an appointment using the new application form reference number(GBR..).

All pages of the filming application form have to be printed on the letter-head paper of the company.

Undertaking - An undertaking containing the below details, duly signed, dated and stamped. Two copies of the duly filled application form and Undertaking have to be submitted at the VFS centres in UK as per the jurisdiction.

Detailed Synopsis
Itinerary (Ports of entry and exit from India to be indicated)
Bio-profile of the journalist/ film-director
Brief presentation of the production agency
List of crew-members giving the following details:
Name and surname as featuring in the passport
Contact coordinates - telephone & e-mail
Profession/Role in the process
Nationality
Date and place of birth (Day/ Month/ Year)
Passport number & validity
Photo Specifications
It is imperative that the photograph submitted at the time of application must fall within the specifications and sizes given below.
Unacceptable photographs, that do not meet the specifications, may not be accepted for submission.
Sample Photograph:
The photograph should be in color and of the size of 2 inch x 2 inch (50 mm x 50 mm).
The photo-print should be clear and with a continuous-tone quality.
It should have full face, front view, eyes open.
Photo should present full head from top of hair to bottom of chin.
Center head within frame.
The background should be a plain light colored background.
There should not be any distracting shadows on the face or on the background.
Head coverings are not permitted except for religious reasons, but the facial features from bottom of chin to top of forehead and both edges of the face must be clearly shown.
The expression on the face should look natural.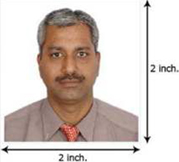 Do's and Don'ts for a Proper photograph
The photo should capture full face, front view, with eyes open.
The head should be in the centre of the frame.
There should be no distracting shadows on the face or background.

Make sure photo presents full head from top of hair to bottom of chin as shown above.

Lighting on face and background
The light should be even and balanced to avoid shadows on the face.
Background behind the face should be properly illuminated to avoid shadows in the background.

Photograph Print Properties
The photograph should be in size 2 inch x 2 inch (50 mm x 50 mm) and in color.
Print photo on thin photo paper.
Ensure the print is clear and has a continuous-tone quality.
Do not retouch or otherwise enhance or soften the photo.

Resolution and Printing Quality/Contrast and Colour
High-resolution photography and printing are strongly recommended.
Both conventional and digital photography are acceptable, and conventional or digital printing methods may be used.
Resulting print should exhibit a continuous-tone quality regardless of the print method used (dye sublimation, ink jet, laser, etc.)
Digitally printed photos should be produced without visible pixels or dot patterns
Fine facial features should be discernible.
Brightness and contrast should be adjusted to present the subjectand background accurately.
Photos without proper contrast or color may obscure unique facial features.
Color should reproduce natural skin tones.
Fluorescent or other lighting with
Unbalanced color may cause unwanted color cast in the photo. Appropriate filters can eliminate improper color balance.

Head & Eyes- Position and Background
Head should face the camera directly and should not tilt or turned (portrait style).
Photo must show both edges of the face clearly.
The eyes must be open, level and clearly visible and must not be covered by hairs or eyeglass frames.

Eyeglasses
Glare on eyeglasses should be avoided with a slight upward or downward tilt of the head.
No tinted or dark glasses.

Head coverings are not permitted except for religious reasons, but the facial features from bottom of chin to top of forehead and both edges of the face must be clearly shown.
Exposure and Lighting
There should not be any over-exposure or underexposure which results in an unusable photo.
There should be a three-point balanced lighting. Facial features should be clearly evident in the photo.
Lighting should be adjusted to avoid shadows on the face or background. Diffuse sources of light, such as umbrella lights, are preferable to point sources.

Flexibility in Children's photographs
Babies under one year do not have to have their eyes open.
As regards the photograph of the children under ten years of age, requirements can be somewhat relaxed in respect of height of the face and the position of the eyes in the photographs; and in case of babies and infants also, the position of the face, the facial expression, the eyes and the line of sight can have some relaxation. However, a frontal photograph with clarity is required for children.
It should show the child alone (no chair backs, toys or other people visible) looking at the camera with a neutral expression and the mouth closed.

Processing Time
Processing times vary from application to application at the sole discretion of the High Commission of India and its Consulates in the UK, and some applications may take longer than others to get processed. Hence, confirm your travel plans only after obtaining the visa

Applications in the following categories may take longer to be processed, when submitted in person at the centre:
Non-UK passport holders residing in the UK for less than two years. (Minimum 6-8working days).
Where clearance from India is mandatory
Nationals or origin of Pakistan (Minimum 7-8 weeks)
Nationals of Sri Lanka, China, Bangladesh, Afghanistan & UK Travel documents. (Minimum 15 working days)
Regular Cases may take a minimum of 3 to 5 working days.
In addition, if the High Commission or the Consulate General requires an applicant to attend an interview, the India Visa Application Center will contact the applicant and inform the date and time of the interview accordingly.

Please note VFS is not involved in the process of assessment of visa applications, or their grant or refusal. The assessment of visa applications is carried out by the High Commission of India or its Consulates, and the grant or refusal of India visas is at their sole discretion.

The processing times for visas are estimates only. These are based on information and experience of the Indian High Commission and Consulates.

The processing of your application is subject to the procedures and timescales of the Indian High Commission and Consulates, over which we have no control.

"Please note that the validity of visa starts from the date of issue and not from the date of travel"

Postal Applications

Effective 16 March 2015 no postal applications will be accepted by VF Services UK for any services, applicants are requested to please visit the Visa & Consular Application Centres in person with prior
Download Form
Online Application Form
All the applicants are required to fill the online application form and submit the same at the preferred India visa application centre. Please click here to fill your application form online.
Additional Form
Undertaking letter