Medical (only private hospitals/clinics)
Overview
This visitor's visa is issued to people who want to visit South Africa for medical treatment of less than three months. All applications for visits for medical purposes must:
SOME IMPORTANT POINTS :
Incomplete applications will not be accepted. Please, bear in mind that failing to meet any of the following requirements will also render the application incomplete:
We strongly recommend that you pay careful attention to the Overview, Documents Required and Processing Time sections of your chosen visa category, before proceeding with your application.
Please be aware that all decisions regarding the issuance of, number of entries and duration of a visa are at the sole discretion of the embassy, and it is not guaranteed that the South Africa High Commission; New Delhi / Consulate General; Mumbai will grant your request.
Please be aware that applicants should be aware of the processing time for their chosen category of visa and apply accordingly. Please also note that all processing times are minimum as stated, and in some cases may take longer.
Visa Fee / VFS Logistic Charges can be accepted in Cash Only.
Documents issued in a Regional language must be officially translated to English.
Visa and Logistics fees
Visa Fee
Visa Fee would be gratis for all the Indian Nationals.
| Nationality | Visa Fee In INR |
| --- | --- |
| Indian Nationals | Gratis |
| Foreign Nationals | INR 2207/- |
VFS Logistic Fee:-
| LOCATION | LOGISTIC FEE/APPLICANT |
| --- | --- |
| Delhi | INR 2040 (inclusive all taxes) |
| Gurgaon | INR 2301 (inclusive all taxes) |
| Jaipur | INR 2301 (inclusive all taxes) |
| Kolkata | INR 2301 (inclusive all taxes) |
| Mumbai | INR 2040 (inclusive all taxes) |
| Ahmedabad | INR 2301 (inclusive all taxes) |
| Pune | INR 2301 (inclusive all taxes) |
| Goa | INR 2301 (inclusive all taxes) |
| Bangalore | INR 2301 (inclusive all taxes) |
Please note:
The visa fee in Rupees is as per current exchange rate. It is subject to change without notice.
Above Logistic charges to be paid in cash at the time of submission.
There is no exemption for VFS Service charge.
The above fee is non-refundable and non transferable.
The visa application centre offers optional service, as listed below at nominal additional costs. For more information please contact our officers at Service Desks.
The below mentioned value added services are available at our Visa Application Centre.

SMS Passport Tracking Facility : INR 55/- per Application
Photocopying
Documents Required
Passport, (valid for at least 30 days after the intended stay/departure date from South Africa; at least Two unused/blank visa pages)( Along with Old Passport i.e. Previous Passport is Mandatory- Applicable in Mumbai,Pune,Ahmedabad,Goa and Bangalore only)
Fully completed visa application form – 11 (DHA-84) – must be completed in black ink and block letters.
Application form-11 (DHA-84) must be signed by the applicant and signature should match the signature on the passport.
Proof of funds (Last 03 month's bank statement signed and stamped by the bank with a balance of South African Currency R 3000 or equivalent in INR for Delhi and Mumbai
Invitation/confirmation for/of medical appointment from private medical institution/practitioner (medical treatment not allowed at public/government medical facilities). The letter must include physical/street address, as well as contact details of the Medical facility/Doctor and name designation and signature; and Host ID copy attested by commissioner of OATHS (South Africa)

Vaccination certificate, (yellow fever) If applicant will travel through or stay in yellow fever belt. For the latest Yellow Fever Policy please click here

Copies of passport bio-data pages (photo page and address/parents page (INDIAN PASSPORTS)
Two recent (not older than 30 days/1 month) passport size, ( 35mm x 45mm of the picture) photographs
Original covering letter signed by the applicant (should clearly mention who will bear the expenses of the trip)

Valid return air ticket

Accommodation proof
For Minor Dependent Children Applicant:- Please Click Here
Photo Specifications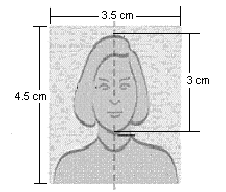 The photograph must be in color.
It should be without border.
It should have a white background only.
It should have a close up of your head and top of your shoulders so that your face takes up 70-80% of the photograph.
It should be in sharp focus and clean.
It should be of high quality with no ink marks and creases.
The photograph must show you looking directly at the camera.
It should be 3.5 cm X 4.5 cm.
It should show your skin tone naturally.
It should have appropriate brightness and contrast.
The photograph should be a recent one not more than 1 month old.
It is to be taken without headgear.
Photograph can be taken with headgear, after consideration on case to case basis if the applicant wears headgear on religious grounds. The main characteristics of the face must be apparent from the photograph. Chin, nose, eyes, ears and eyebrows must not be covered; the forehead should be uncovered to the extent that the shape of the face is apparent. Teeth should not be visible.
It should be without hat/cap.
The photograph should not have any staple marks.
Scanned & color photocopies would NOT be accepted.
Processing Time
Visa Application Processing Time
Location
Processing Time
Delhi
Minimum 05 working days
Gurgaon
Minimum 07 working days
Jaipur
Kolkata
Mumbai
Minimum 05 working days
Ahmedabad
Minimum 07 working days
Pune
Goa
Bangalore
Please Note: -
Please note that this is an indicative processing time only. Processing time may increase or decrease at the discretion of the South African High Commission, New Delhi and South African Consulate General, Mumbai.
VFS Global is involved only in non-judgmental task of visa processing and does not play any role in processing the visa application as this is entirely the prerogative of the South African High Commission, New Delhi and South African Consulate General, Mumbai.
Download Form
You must submit an application for a visa (Form DHA-84) with the relevant documentation as listed on this website; the same can also be accessed by clicking here and pay the prescribed fee. Applicants need to attach the checklist to each and every application.
VISA APPLICATION FORM

MEDICAL FORM

(Applicable only in Delhi, Jaipur, Kolkata and Gurgaon)

RADIOLOGICAL FORM

(Applicable only in Delhi, Jaipur, Kolkata and Gurgaon)

APPEAL FORM

(Applicable only in Mumbai, Pune, Goa, Bangalore and Ahmedabad )

WAIVER FORM

(Applicable only in Mumbai, Pune, Goa, Bangalore and Ahmedabad)