Visitor – Tourist Stream
Overview
This visa is for the temporary entry of people for tourism or business visit purposes. There are two streams which can be applied from outside Australia:
Tourist stream
For people to visit Australia temporarily for a holiday, to visit relatives or friends or for other short-term non-work purposes, including study for less than three months.
Business stream
Business visitor activities may include attending a conference, negotiation or an exploratory business visit.
Note: The Temporary Work (Short Stay Activity) visa (subclass 400) is the appropriate visa for
Performing work for organisations or persons based in Australia
Sales of good or services directly to the general public (retail activity)
Certain passport holders are also eligible to apply for a Visitor visa online

See: Visitor visa online
Afghan Nationals
From 1 April 2015, Afghan Nationals who reside in Pakistan and Afghanistan, who wish to apply for either Visitor Visa - Tourist and Business Streams subclass 600, their applications will be processed at the Australian Consulate-General in Dubai. Applications can be lodged online by creating an ImmiAccount. More information about how to create an ImmiAccount can be found at here.
Visa Fees
Please note the update in Visa fees, effective 01 July 2021, and refer to Visa Pricing Currency Table for more information.
VISA CATEGORY
BASE VISA
APPLICATION
CHARGE (AUD)
BASE VISA
APPLICATION
CHARGE (PKR)
ADDITIONAL
APPLICATION
CHARGE – OVER 18 (AUD)
ADDITIONAL
APPLICATION CHARGE
– OVER 18 (USD)
ADDITIONAL
APPLICATION CHARGE
– UNDER 18 (AUD)
ADDITIONAL
APPLICATION CHARGE
– UNDER 18 (USD)
Visitor
(Subclass 600)
145
15800
-
-
-
-
How to pay for your visa
Fees can only be paid by Bank Draft payable to the 'Australian High Commission Islamabad' in Pakistan Rupees, cashable from any bank.
*Fees updated effective from 01 July 2021
Please refer Here for more information.
Primary Client/Applicant Fee
Application lodgement and biometric collection – Primary applicant
PKR 5,912
Biometric Only
PKR 5,616
Secondary Client/Applicant Fee
   Additional document submission – if not accompanied by a letter from the Visa Office
PKR 4,138
Service Fees

Service Delivery Partner will charge clients a service fee for visa application lodgement and biometric collection. This is in addition to visa application charges. The service fees will be as follows and will be payable in cash at application centre.

Service Fee is paid in cash.
Please click on Additional Services for more information
Documents Required
Download the checklist corresponding to your visa subclass.
The checklist will help you prepare all the documents you need for the application
Photo Specifications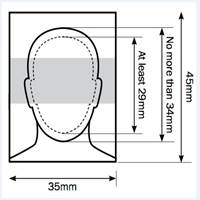 Four passport-sized photograph (please attach to the form). NB - ID photos that have been digitally enhanced or altered to improve or change appearance or remove distinguishing features are not acceptable. As the photos are required for identity purposes, if they do not represent your true appearance, your visa application may be delayed if you need to be asked to provide new photos. The photos should also meet normal passport size and pose (front on head and shoulders, no facial coverings or sunglasses).
Processing Time
For the current average processing time of visa application kindly click here.
Download Form
Application Form
For a complete list of forms please click here
For Under 18
Authorized Recipient