Au Pair
Visa Fees
| Category | Visa Fee in EURO |
| --- | --- |
| Au Pair | 195 |
Please Note :
The applicable fee is as per the current exchange rate. It is subject to change
All fees are non-refundable.
There is a logistic fee of IDR 156,000 levied per application over and above the permit application fee.
The Visa Application Centre offers the following services at a nominal additional cost:

Photocopying services
Photo services
Courier services
SMS Tracking Facility

All charges are to be paid in cash only in Indonesian Rupiah (Visa Fee, VFS service charge and other charges)
Documents Required
Please click here for detailed information.




Photo Specifications
NEW RULE FOR SIZE OF PHOTOGRAPH FOR VISA APPLICATIONS
After the Embassy has installed a new system for scanning biometrics, including photographs for visa applications, it is now only possible to lodge a photograph of size 35 x 45 mm. Length of the head should not exceed 30 to 36 mm in length from chin to top of hair.
The photograph must still be in color with bright background.
Denmark Visa Application Centre has been instructed by The Royal Danish Embassy to inform applicants that the visa application is not acceptable if the photograph does not comply with the above format.
Applicants may therefore obtain a new photograph that meets all requirements before The Denmark Visa Application Centre can receive the application.
For further information see the print on the information board at The Denmark Visa Application Centre or visit website https://www.politi.dk/da/borgerservice/pas/pasbilleder/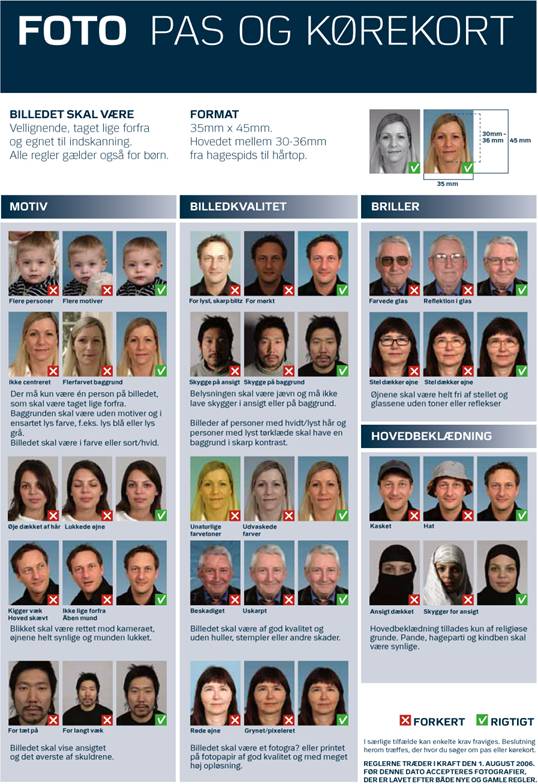 Processing Time
Please click here for detailed information
Download Form
Please click here for detailed information