Visit Relatives and Friends
Overview
Application is applicable in case you are travelling for visit relatives and friends. This visa is given for a travel period of less than 90 days.

Visa Fees
| Category | Visa Fee in - EURO |
| --- | --- |
| Adult | 80  |
| Children between the age of 6 and 12 | 40 |
| Children under the age of 6 | Free of charge |
Please Note :
The applicable fee is as per the current exchange rate. It is subject to change
All fees are non-refundable.
There is a logistic fee of IDR 156,000 levied per application over and above the permit application fee.
The Visa Application Centre offers the following services at a nominal additional cost:

Photocopying services
Photo services
Courier services
SMS Tracking Facility

All charges are to be paid in cash only in Indonesian Rupiah (Visa Fee, VFS service charge and other charges)
Documents Required
The following documentation is required when applying for a visa:
Application form duly completed and signed by the applicant. For children under the age of 18 years old, application form must also be signed by both parents.
One recent color photo (size 35mmx45mm with white or very light background) and the head measuring 70 - 80% of the photo.
Valid passport (valid for at least 3 months beyond the last day of the intended stay in the Schengen area).
1 Colour copy/scan of passport's bio-data page and address page. For non-Indonesians, please provide a copy of residence permit in Indonesia (KITAS/KIMS/KITAP) with validity of minimum 6 months.
Copy of pages with changes/endorsements, pages with previous or valid visas to the Schengen area, UK, USA, Canada, and Australia issued for the past 3 years.
Invitation letter signed by the host/inviting person, stating relation between the invitee and the applicant. The invitation should state how long they have known each other, when they last met and where, including a declaration of financial responsibility vis-à-vis the applicant, and the dates for the invitation which must correspond to the confirmed flight booking and requested length of stay in the visa application.
Colour copy/scan ID of the host/inviting person (bio-data page of passport) or copy of host's/inviting person's stay permit in Denmark – if the host/inviting person is not Danish citizen.
Employment letter stating the applicant's job function and duration of employment. If the applicant is self-employed or owns a company, the company registration (i.e. SIUP, TDP, NPWP) must be included as confirmation to the effect that the applicant has been granted leave for the period corresponding to the stay in Schengen and is expected to report back on duty.
Recent personal bank statement from the last three months. Copy of personal credit card may also be presented as supportive documentation for proof of financial means.
Copy of Family Card, Marriage Certificate and Birth Certificate.
Original or copy print-out of confirmed flight-booking from travel agent/airline. It should prove that the stay in the Schengen area does not exceed 90 days. The Embassy strongly advises all applicants not to buy their ticket before the Embassy has confirmed that their visa will be issued. Please note that upon collection of the visa you may be required to show the original ticket/e-ticket.
Copy of confirmed hotel voucher/hotel reservation for the whole period of stay, in case of stay in a hotel.
Copy of Travel Medical Insurance (TMI).
In case of minor children (under 18 years old) traveling alone or with one parent, a letter of consent is needed from both parents/guardians or from the parent who does not travel. The signature(s) should be legalized/notarized. This letter will specify the authorization for travelling as well as the motive of the journey and the minor should at all times during the journey carry this authorization on him or her.
In case of medical purpose, the documents needed are a letter from applicant's physician or the hospital in Indonesia; a confirmation letter from a physician or a hospital in Schengen area regarding the appointment as well as the necessity of treatment at that hospital or clinic; and proof of medical insurance or proof of payment for medical treatment (apart from TMI). The applicant must present documents or proof that he/she has enough economic means to pay the medical treatment in its country of destination.
Travel Medical Insurance:
All applicants must submit copy of proper travel medical insurance at submission time.
The insurance policy must contain the following information:
Name of person covered and period of validity
Cover medical expenses up to equivalent of Euro 30000
Cover the entire Schengen area - not just Iceland
Cover the Entire Period of stay in Schengen (as indicated on flight ticket)
Note that when you count the days of stay, remember to include the first day in your calculation and also consider that some months have 31 days.

Example: Arrival in Iceland 1 April and departure from Iceland 30 June is NOT 90 days, but 91 days.
Note also that the insurance coverage may be checked at the border of entry to Schengen. Insufficient proof of insurance is ground for refusal of entry.
On April 5, 2010, regulation no. 810/2009 of the European Parliament and of the Council establishing a Community Code on Visas (Visa Code) enters into force.

For Iceland and all other Schengen member states, the Visa Code will hereafter be the regulatory framework for visas.
These new regulations imply new demands on the application, meaning that all supporting documents must be handed in along with the Schengen application form.
It is essential that you collect all of the following documents before presenting your application to the Mission:
Application form
Valid passport
Photo
Visa fee
All supporting documents
If supporting documents are not presented promptly, your application upon examination may be refused and the visa fee lost.

Please note that the requested supporting documents, as a general rule, are the same at all Schengen Missions (in the local area).
Photo Specifications
NEW RULE FOR SIZE OF PHOTOGRAPH FOR VISA APPLICATIONS
After the Embassy has installed a new system for scanning biometrics, including photographs for visa applications, it is now only possible to lodge a photograph of size 35 x 45 mm. Length of the head should not exceed 30 to 36 mm in length from chin to top of hair.
The photograph must still be in color with bright background.
Denmark Visa Application Centre has been instructed by The Royal Danish Embassy to inform applicants that the visa application is not acceptable if the photograph does not comply with the above format.
Applicants may therefore obtain a new photograph that meets all requirements before The Denmark Visa Application Centre can receive the application.
For further information see the print on the information board at The Denmark Visa Application Centre or visit website https://www.politi.dk/da/borgerservice/pas/pasbilleder/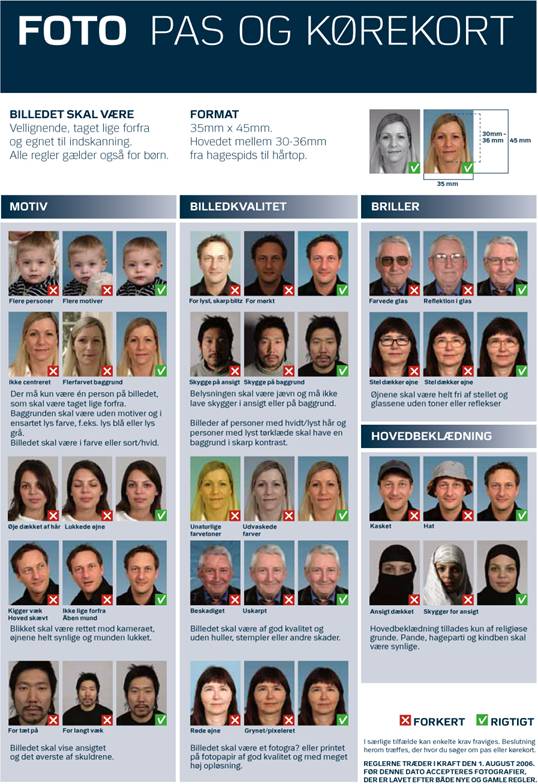 Processing Time
Processing of Visa Applications During Peak Season
Please note that processing time during peak season from April to August is the following:
Bona fide cases (Approved by the Embassy) – Maximum 15 calendar days, for a fully completed application with proper documentation which is handed in at the VFS Visa Application Centre. Please hand in your application well in advance during peak season.
Cases for Danish Immigration Service (DIS) – See the processing time in http://www.nyidanmark.dk/en-us/coming_to_dk/visa/processing_time.htm and add 3 - 5 working days of processing time at the Embassy.
Approximately 5 working days must be allowed from when DIS has made a decision until the Embassy contacts the applicant.
Online Form
Please Fill for Online Form Application and Online Payment
Note: After you have applied and paid the visa fee online, you must print the cover letter from Apply Visa and hand in supporting documents at the Visa Application Centre Applicant can be asked for additional documents or may be called for an interview if deemed necessary by the Embassy. The Visa fee, according to Schengen regulations, is non-refundable. Frequent business travelers have the option of applying for a business visa for one year validity.