Family Visit
Overview
Application is applicable in case you are travelling to visit relatives and friends in Denmark. This visa is granted for a travel period of less than 90 days.
For apply visa under EU regulations, please click here.
Visa Fees
Applicants applying at Visa Application Centre shall be levied a service charge of Euro 22.
Please Note:
From the 01 July 2019, you must fill in your visa application and pay the application fee online using https://applyvisa.um.dk/.
After you have applied and paid the visa fee online, you must print the cover letter from ApplyVisa and hand in supporting documents at the Visa Application Centre.
The service charge is non-refundable in all cases and only payable in cash.
Children below the age of 6 years on the date of submission at VFS are exempted of the Visa Fee. However, the VFS Global service charge will be applicable.
Documents Required
Please make sure that you attach the invitation letter from your family or friend in Denmark along with your application.
Basic requirements:
Family visits and short term visits to Denmark
All supporting documents must be submitted by applicant on date of interview and not sent to the Embassy's official mail. In addition to the documents mentioned below, depending on the case, the Embassy may require the applicant to hand in more documents.
One short stay application form for each applicant, fully completed and signed by the applicant, with one recent colour photo (35x45 mm, close up, straight on) of each applicant
Original passport, have a validity of at least 3 months after intended stay, with a photocopy of the identity, companying persons and validity pages as well as original previous visas, if any + a copy (passport must NOT be changed between application and visa issue. This will result in a renewed Schengen consultation and thus a considerable further delay)
Original ID booklet with a photocopy of all pages (shenasnameh).
Bank statements and Bank circulation for the last 3 months.
Original marriage/divorce book, if applicable (in case of visiting husband/wife, original official translation of marriage book + colour copy), wedding photos + copy of entry/exit stamp in reference's passport.
Copy of documentation of the applicant's relationship with the reference in Denmark
A recent invitation from the reference in Denmark indicating exact name, address, telephone no., e-mail, CPR or UDL number of the reference, name and address of the applicant, approx. dates of visit and information about coverage of costs. An invitation form may be downloaded here (word). Please bring invitation ID-code in case of online invitation. A printed copy of the invitation letter must be presented at the scheduled interview.
Pensioners: proof of receipt of a retirement pension.
All the documents MUST be translated in English and in A4 paper.
Schengen VISA application:
Proof of sufficient financial means to cover the costs of the stay even if the invitation letter contains an appropriate guarantee.
Clear copy of reference's valid residence card or Danish passport
If reference's name has been changed, copy of certificate
For applicants working/studying, documentation in English certifying date of employment, position, duration of leave, guarantee of return to job after leave. For retired (pensioner) applicants, original pension ID + copy of latest pension letter/latest pension slip.
Applicants who have been to Denmark/Schengen before or have received positive/negative reply, must present previous passport or the reply letter from the Embassy.
Also a travel medical insurance should be taken out and shown at time of application. The insurance must be valid for the Schengen area and Liechtenstein and covering the entire stay. The applicant must present the original policy with a copy.
The insurance policy must have a minimum coverage of EUR 30,000 and must cover:
Repatriation for medical reasons
Urgent medical care
Urgent treatment in a hospital
In case of death, repatriation of the corpse
The list of Iranian insurance companies accepted by the Embassy can be found via this link.
"Iran, Saman and SOS travel insurance companies are not accepted to apply for Denmark visa application. Only Iranian travel medical insurance companies which their supporters are located in Schengen territory e.g. EVASAN, RSO,IFRA and etc. will be accepted to apply for visa to Denmark."
The original insurance policy must be presented at the port of entry. Lack of a valid Travel Medical Insurance Policy upon arrival may lead to rejection at the border.
Applicant's biometric data (fingerprint and digital photo)
From 02 October 2012 all visas issued contains biometric data. This means that all applicants must apply in person. To collect biometric data the applicant may be asked to remove glasses or adjust head coverings if they hide facial features. Certain categories of applicants are exempted from the biometric requirements:
Children under the age of 12
Heads of State and members of national government invited for an official purpose
The introduction of biometric data is part of the Schengen Visa Information System (VIS). For further information about VIS, data protection and legal backgrounds please see Visa Information System (VIS) .
The Embassy may request additional documents or information. All additional documents should be either in English or Danish. All applicants are required to appear in person for an interview.
Presentation of the above-mentioned documents does not guarantee the applicant a visa. It is not advisable to buy a ticket before visa is granted.
Processing:
Some applications require the involvement of the Danish Immigration Service. In these cases both handling and decision are made by the Danish Immigration Service. The Embassy will subsequently pass on the decision of the Danish Immigration Service to the applicant. The Embassy has no influence on this process.
Processing Time:
Usually 10-15 days (not including processing by the Danish Immigration Service): http://www.nyidanmark.dk/en-us/coming_to_dk/visa/processing_time.html
Fee:
The handling fee is Euros 60 for adults and Euros 35 for children (6-11 years) The paid fees are non-refundable, even if the application is not approved.
Checking the issued visa:
It's the responsibility of the applicant to check the issued visa and make sure of it's correctness. The information sheet of how to read the visa can be found here.
For Family and Friends Invitation form please click here
Photo Specifications
Photograph Quality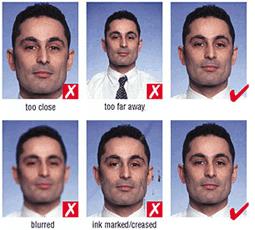 The photographs must be:
No more than 6-months old
35-40mm in width
Close up of your head and top of your shoulders so that your face takes up 70 -80% of the photograph
In sharp focus and clear
Of high quality with no ink marks or creases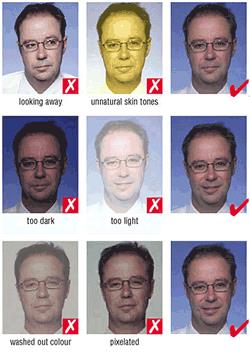 The photographs must:
Show you looking directly at the camera
Show your skin tones naturally
Have appropriate brightness and contrast
Be printed on high quality paper, and at high resolution Photographs taken with a digital camera must be high quality colour and printed on photo-quality paper.
Style and lighting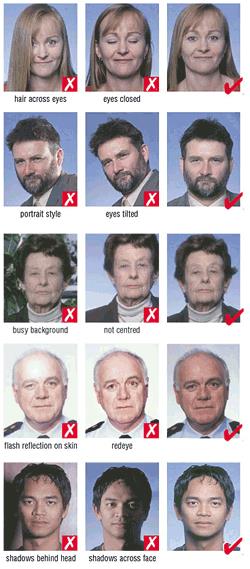 The photographs must be:
Be colour neutral
Show your eyes open and clearly visible-no hair across your eyes
Show you facing square on to the camera, not looking over one shoulder (portrait style) or tilted, and showing both edges of your face clearly
Be taken with a plain white or light-coloured background
Be taken with uniform lighting and not show shadows or flash reflections on your face and no red eye
Glasses and head covers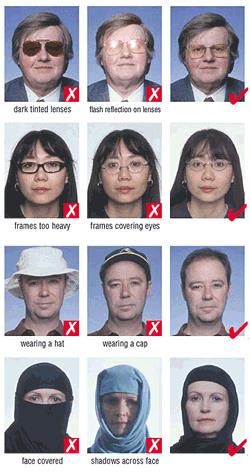 If you wear glasses:
Be colour neutral
The photograph must show your eyes clearly with no flash reflection off the glasses, and no tinted lenses (if possible, avoid heavy frames - wear lighter framed glasses if you have them)
Make sure that the frames do not cover any part of your eyes.
Head coverings :
Are not permitted except for religious reasons, but your facial features from bottom of chin to top of forehead and both edges of your face must be clearly shown.
Expression and frame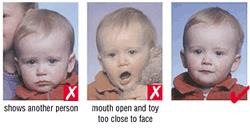 Your photographs must:
Show you alone (no chair backs, toys or other people visible), looking at the camera with a neutral expression and your mouth closed.
Processing Time
The processing time for a Schengen visa is usually 15 working days (not including processing by the Danish Immigration Service). However, certain visa applications may take longer for consultation.
Download Forms
From the 01 July 2019, you must fill in your visa application and pay the application fee online using https://applyvisa.um.dk/.
Important Note:
After you have applied and paid the visa fee online, you must print the cover letter from ApplyVisa and hand in supporting documents at the Visa Application Centre.