Visa Types
Overview
"NEW MANDATORY ONLINE VISA APPLICATION: From 01 July 2019 you must fill in your visa application online and pay the application fee online using ApplyVisa.um.dk. After you have applied and paid the visa fee online, you must print the cover letter from Apply Visa and hand it and supporting documents at the VFS Visa Application Center https://www.vfsglobal.com/Denmark/Mexico/English/index.html
General Description
Each applicant, including children / babies, must apply for the Schengen Zone Permit in person and by appointment which must be booked online (scheduling an appointment) by applicants.
When to apply only to Tourism
For citizens who do not belong to the European Community and are not sure if a permit is needed to travel to the Schengen area, please click here
Candidates must, at least, meet the following requirements to enter their application to obtain the Schengen Zone permit
Have a valid passport
All candidates who need to have permission to go to the Schengen zone must do so from the country of residence, however there are candidates who can apply from any Danish mission outside the country in which they reside, provided they have a valid reason for not applying from your country of residence, that is, without a Danish mission, a new or urgent situation that has occurred during your stay in Mexico (ie, travel for new business, death or serious illness of a relative in Denmark / Iceland - please take into consideration the part of the doctor's receipts from the hospital or the doctor where his relative was treated, since this will be required.
Applications for a short-term permit: Tourism / visitor to family or friends / conferences (including minors), Business or family member belonging to the European community.
Tourist:
Applicants travelling purely for tourist purposes, i.e. visiting for leisure, recreation or sightseeing, and provide for their own accommodation (hotel, hostel, B&B, camping).
Visitor Family and Friends:
Applicants visiting and staying with family/friends, who are legally residing in Denmark/Iceland.
Conference:
Applicants /students attending a conference/seminar/workshop, purely out of interest and on their own initiative or by invitation.
Business:
Applicants intending to travel for business purposes, i.e. visiting a business/company to have meetings, to make business deals, to recruit, to train or other work related activities
Applicants /students going to be actively involved in a conference/seminar/workshop
Minors:

Applicants who haven't reached the age of 18 years when submitting a Schengen visa application (Tourist/Visitor Family and Friends/Conference or EEA/EU family member).
Due to European legislation regarding protection of children/minors, it has to be emphasised that Minors, who are not providing all the required documents, may not be granted a Schengen visa.

Applicable visa fee for minors varies in 3 age groups:
Minors under 6 years old: Free
Minors between 6 years and 12 years old: Reduced visa fee
Minors 12 years old and more: Full visa fee
Biometrics
When you come to the VFS Global Denmark visa application centre to deliver short term visa application, you will need to have your biometric data recorded.
Every applicant who is applying for the Schengen visa for the first time must visit the visa application centre in person. Children of less than 12 years need to visit but are not require having fingerprints, only a photograph.
Biometric features
Biometric features (fingerprints and facial images) are stored by the Immigration authorities. If you are granted a residence permit, your fingerprints and facial image will be stored for 10 years. If you are not granted a residence permit, your fingerprints and facial image will be stored for 20 years. If you become a Danish citizen, your fingerprints and facial image will be deleted.
Travel Medical Insurance
Applicants must provide proof of travel medical insurance covering the full time of their intended visit.
The insurance must be valid throughout the territory of the Member States.
The minimum cover shall be EUR 30,000.
The travel insurance submitted should also specifically include COVID-19 treatments
Visa Fees
VISA CATEGORY
VISA FEE (ONLY THROUGH DENMARK'S EMBASSY WEBSITE)
Tourism/Visitor Family and Friends/Business

80 EUROS

ApplyVisa.um.dk
Children less than 6 years old

GRATIS

ApplyVisa.um.dk
Children between 6 and 12 years old

40 EUROS

ApplyVisa.um.dk
Nationals of countries with Visa Facilitation agreement with the European Union: Albania, Armenia, Bosnia – Herzegoniva, Georgia, Macedonia, Moldova, Montenegro, Russian Federation, Serbia and Ukraine
ApplyVisa.um.dk
The requests that are exempt from payment are the following:
Groups of students accompanied by teachers on study tours. This only applies to applicants who have a letter of invitation from an educational institution in Denmark.
(Scientists) Researchers from third countries.
Representatives of non-profit organizations (up to 25 years old) that actively participate in conferences and events (sports, cultural or educational) organized by non-profit organizations.
COST OF VFS SERVICE
VFS SERVICE FEE (IN MXN)
$526.00
VFS service fee (inclusive of VAT) is charged per visa application. You can do the Visa Payment in our offices.
For the charges that are presented at the visa application center, they can be paid by credit or debit card at the visa application center.
IMPORTANT: All fees are non-refundable. We do not accept American Express Card
Documents Required
For more information on documents required for your visa application, please click here
Photo Specifications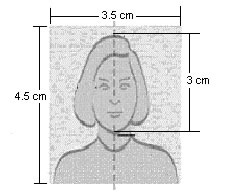 Please provide one recent colour photograph (not more than 6 months old) of yourself, meeting the following requirements:
Taken against a light (white or off-white) background so that features are distinguishable and contrast against the background.
Clear quality and with the face in focus
Full face: non-smiling, no sunglasses, no hat/cap or any head covering, unless the applicant wears such items because of his/her religious belief or ethnic background
Printed on normal photographic paper (camera print)
Photograph attached (glued) to the Visa Application Form.
If the photographs presented do not meet these requirements, then the visa application will be considered incomplete and applicant will be asked to take new photographs in the photo booth in the visa application centre.
Processing Time
Once all procedures are completed, the pickup of the decision on your application or passport must be coordinated with the company VFS Global.
Once the embassy receives the decision made in Denmark by the migration services about your application, VFS will contact you to pick up your passport, or we will send it to you by Courier at home if you have requested that service.
The processing times will depend on your type of visa, you can check the times here:
Download Form
For Denmark every applicant needs to provide a signed printout from an online Schengen visa application form (VAF).
Therefore each applicant first needs to download and print the Schengen visa application form as follows:
Click on the link to obtain the application form for VU2 (in PDF format)
Click on the link to obtain the visitor request form (in PDF format)
Click on the link to obtain the VU1 "Business" application form (in PDF format)
Once the Schengen visa application form has been printed, then applicant needs to finish the remaining steps:
Duly complete the printed visa application form (as per the passport's details)
Sign the completed visa application form in the designated places (no.37 and right under the disclaimer at the end of the VAF)
Bring the signed visa application form with the supporting documents on his/her appointment day (Schedule an Appointment).