tourism
Overview
All citizens of India and Afghanistan are required to apply for a visa before entering Finland and/or other countries under the Schengen agreement. Before applying, please ensure you understand your particular 'purpose of visit'. Schengen visas must be applied for at the respective Embassy/Consulate of the country of your main destination. Your main destination will be the Schengen country where your duration of stay exceeds all others. Due to this, when traveling to more than one Schengen country, you should submit your application to the Embassy/Consulate representing the country of your main destination. In case of equal stay, you have to submit your application to the mission of the Schengen country representing your first port of entry.
See more info about Schengen visas at the website of Finnish Embassy in New Delhi.
The Visa Application Centre accepts applications for short stay Schengen visas only (not exceeding 90 days during 180 days period). Applicants (including children of all ages) need to visit the Visa Application Centre in person. All applicants applying for a Schengen visa must submit biometric data - ten fingerprints and a photo. The biometric data will be stored in the Visa Information System (VIS), which is an IT system that allows data exchange between the Schengen States. More information can be found here.

Who can submit visa application in Visa Application Centre
The Visa Application Centres in New Delhi, Bangalore, Chennai, Hyderabad, Kolkata or Mumbai accepts Schengen visa applications from
Legal residents of India (India citizens, Indian registration certificate /residential permit /stay visa holders)
Legal residents of Afghanistan (Afghan citizens, Afghan long stay visa holders) who have entered India legally)
Applying for a visa in the neighboring countries
Finland is represented by Sweden in visa affairs in Bangladesh. The visa applicants living in Bangladesh are requested to submit their applications at the Embassy of Sweden in Dhaka.
Norway represents Finland in Sri Lanka. The applicants are requested to submit their applications at the Royal Norwegian Embassy in Colombo.
Finland is represented by Netherlands in Pakistan, where the applicants may submit their applications at the Dutch Embassy in Islamabad.
The appendices (e.g. invitation letter) shall be presented in English or in the language of the representing country.

Processing terms
Visa application can be submitted three months before the trip, we recommend you to apply at least one month before the planned trip. Please note that all applications are processed individually. The Embassy may request further documentation, information or you may be called for an interview which can prolong the processing time.
The Visa Application Centre takes visa applications with an appointment. Information how to book the appointment can be found here.
Visa Fees
| Visa Fees | Euro | Rupees |
| --- | --- | --- |
| Schengen visa | 60 | 4800 |
| Children, 6 to 11 years old | 35 | 2800 |
| Children, 0 to 6 years old | 0 | 0 |
| Visa for the citizens of Russia, Ukraine, Kosovo, Albania, Armenia, Azerbaijan, Georgia, Bosnia-Herzegovina, Macedonia, Montenegro, Serbia and Moldova | 35 | 2800 |
Applicant's exempted from visa fee:
Family members of EU/EEA–citizen
School pupils, students, post graduate students and accompanying teachers who undertake trips for the purpose of study or educational training - To Be Evaluated Case Per Case
Researchers travelling for the purpose of carrying out scientific research - To Be Evaluated Case Per Case
Service charge:
| Type | Rupees |
| --- | --- |
| VFS Service fee | 1665 |
*Please note that all the service fee is inclusive of Goods and Service Tax –SGST @9% and CGST@9%
Click for the price list of Additional Services.
Please Note:
The applicable visa fee in Rupees is as per current exchange rate. It is subject to change without notice.
Also, convenience fees of INR 155 payable for provision of multiple mode of payment.
Documents Required
Please note that the visa category chosen by an applicant must be based on the purpose of travel to Finland and the decision must be made by the applicant him/herself. An application filled incorrectly and carelessly can cause refusal of a visa application. The applicant may need to submit additional details or applicant can be asked to come for an interview at the Embassy.
Photo Specifications
Every applicant needs to provide one photograph. Photograph should be:
In colour.
Taken within the last six months.
Taken against a light one-coloured background.
In sharp focus and of good quality.
47 mm high x 36 mm wide in size
Height of the head should be 25–35mm.
Manipulated photo is not accepted.
Printed on photo paper.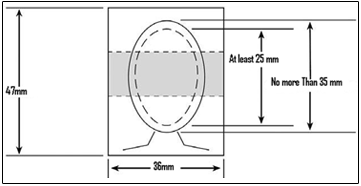 See more information about the passport photo guidelines by the Finnish Police.
https://www.icao.int/Security/mrtd/Downloads/Technical%20Reports/Annex_A-Photograph_Guidelines.pdf
Travel Medical Insurance
Each applicant (including children) must have a travel medical insurance. Exceptions are family members of EU/EEA citizens, as well as holders of diplomatic and official passports on mission.
Basic requirements for an insurance policy:
Insurance should cover the entire validity period of the visa and all of the planned days of stay.
Insurance validity area should cover the whole Schengen area or to be worldwide. No areal restrictions are allowed (for example "Finland, Schengen").
The insurance coverage limit should be not less than 30.000 euros or equivalent amount in other currency (for example 50.000 dollars)
Policies should insure your costs in case of sudden illness or accident and assistance on site, including the costs of medical repatriation to the place of permanent residence of the insured person or the repatriation in case of death.
Original insurance policy needs to be presented during submission; applicant can provide a copy to the application (Embassy does not return documents after application has been processed).
Travel medical insurances can be bought from an approved insurance company.
An applicant for multiple-entry visa may provide an insurance policy which covers the first trip. The applicant undertakes to purchase an insurance policy for further trips by signing the visa application.
Processing Time
The estimated processing time is up to 15 working days for individuals and up to 20 working days for groups of more than 15 people.
For Business cases estimated processing time for individuals is 3-5 working days, 20 working days for groups and in certain cases 30 working days. The processing time does not include week-ends or public holidays (either Finnish or Indian).
In individual cases and during high season the Embassy can extend the processing time to 30 days if needed.