Tourist Visit
Overview
Latvian Tourist visa issued for those going to Latvia for holidays, tourism, entertainment or to see friends and family in Latvia. If you are a Latvian citizen, you do not have to submit an application for a Latvian visa
Visa Fees
Visa Fees applicable with effect from 01 October 2019 for Tourist Visit is:
| DURATION | VISA FEES IN INR | VISA FEES IN EUROS |
| --- | --- | --- |
| Tourist | 4800 | 60 |
| Children between 06 - 12 | 2800 | 35 |
The above mentioned Visa Fee should be paid in cash or by debit/credit card.

VFS Service charge:

Applicants applying at the Latvian Visa Application Centre shall be levied a service charge of Rs. 1616/- (inclusive of Goods and Service Tax –SGST @9% and CGST@9%) payable in cash or by debit/credit card.

Please Note:
The applicable visa fee in Indian Rupees is as per the current exchange rate. The same is subject to change without notice.
The Visa fee and service charges are non-refundable in case the visa is refused.
There is an optional courier facility available at Rs.450/- (Inclusive of Goods and Service Tax –SGST @9% and CGST@9%) per application / passport.
Note: Children below the age of 6 years on the date of submission at VFS are exempted of the Visa Fee. However VFS service charges will be applicable.
Documents Required
Photo Specifications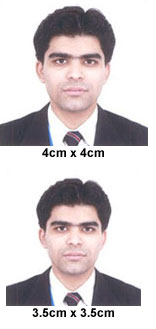 Photographs
Applicant applying for Short term visa there live photo will get captured at the Visa application center and the same will get pasted on the online application form
Processing Time
Please apply at least 2 weeks in advance and note that visa processing takes up to 10 working days. Please note that applications submitted to other VFS-offices than New Delhi will take another two days due to postal delivery.
Download Form