Cultural purposes
Overview
A Cultural purpose visit visa is required if during any portion of the visit you intend to attend cultural event. Such visas can only be issued to travellers not being paid for work by an entity within the Netherlands.
Visa Fees
Please note that VFS Global offers an additional optional service for visa applicants in Ghana. VFS Charges an extra service fee for this service, to be paid by the applicant.
For the official visa fees charged by the Dutch government, click here.
VFS service charge:
Apart from the visa fee, VFS service charge in GHS 95 (for submission with biometrics) inclusive of VAT per application will be levied for applicants applying at the visa application centre.
All payments will be collected in local currency (cash, Point of Sale Device (POS) and Mobile Money) as per the local exchange rate
All fees are non-refundable.
Documents Required
Instructions for applicants below 18 years
For minors (under the age of 18), application form must be signed by both parents/legal guardians. Copies of both parents' passports are required with a consent letter. The consent letter you can download under the tab download forms: Minors Consent Form.
Photo Specifications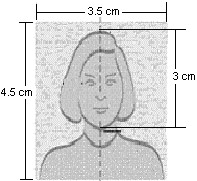 Note: The photographs submitted must meet with these specifications.
Please provide one recent photograph (not more than 3 months old) of yourself. The photographs should be in colour and:
Taken against a light background (white or off-white) so that features are distinguishable and contrast against the background.
Clear share quality and with the face in focus.
Printed on normal photographic paper (camera print).
Full face, non-smiling [without sunglasses, a hat/cap or other head covering, unless the applicant wears such items because of their religious belief or ethnic background].
Note: Please follow these instructions carefully. If photographs presented do not meet these requirements your application will be considered incomplete.
Kindly download the Photo Specification file for more information.
Processing Time
The legal processing time for a Schengen visa is 15 working days. Please note that your passport will be kept during the visa application process.
Please be advised that due to the above mentioned minimum processing time, we are not able to guarantee the return of passports by specific dates for travel.
Please be sure to submit your visa application well in advance, to avoid any inconveniences.
Download Forms
Complete the online Schengen visa application form, print it out and take it to your appointment. It is strongly recommended to complete the form using the online portal instead of the paper format.
The portal will guide you through the application questions and will make sure you do not forget to enter any necessary values.
Online Visa Application Form