Tourist
Overview
Every applicant, including children/infants, has to submit his/her Schengen visa application in person and by appointment only on their appointment date, which needs to be booked online by the applicant.
Applicants, who intend to travel to Portugal purely for tourist purposes, i.e. visiting for pleasure, need to apply for a Tourist visa,.
Eligibility
Applicant must at least meet the following criteria in order to be eligible to submit a Schengen visa application:
Holding a valid passport/travel document
Holding a valid US residence permit. In case applicant holds a short stay visa, a B1/B2 type visa, for the US, then applicant needs to apply for a Schengen visa from his/her residence country.
Applying for a short stay visa (Tourist: including visits to family or friends, Business, EEA/EU Family member or Transit)

JURISDICTION RESTRICTIONS:

WASHINGTON DC: AREAS OF JURISDICTION

States of: Alabama, Arkansas, Florida, Georgia, Illinois, Indiana, Iowa, Kansas, Kentucky, Louisiana, Maryland, Minnesota, Mississippi, Missouri, Nebraska, North Carolina, North Dakota, Ohio, Oklahoma, South Carolina, South Dakota, Tennessee, Texas, Virginia, Wisconsin, District of Columbia.

NEW YORK: AREAS OF JURISDICTION

States of: Connecticut, Michigan and New York Territories of American Virgin Islands, Bahamas, Cayman Islands, and Puerto Rico

SAN FRANCISCO: AREAS OF JURISDICTION

States of: Alaska, Arizona, California, Colorado, Hawaii, Idaho, Montana, Nevada, New Mexico, Oregon, Utah, Washington and Wyoming
For Non EU citizens who are not sure whether a Schengen visa is required to travel to the Schengen Area, please click Do I need a visa? to find out.
Documents Required
Travel insurance is mandatory for all Schengen countries. If you have not purchased, please click here
Important – Retention of document: Please be informed that after processing of Visa/Resident permit applications, Embassy/Consulates only return passport with payment receipt.
Other documents submitted along with your Visa/ Resident permit applications are not returned. We strongly encourage you to retain a copy of all the important document for your reference.
The list of documents below is not an exhaustive list of documents and the applicant could be asked for additional documents if desired by the Consulate General of Portugal.
Applicants always have to bring and show their original documents, but they only need to submit photocopies of the same; unless the requirements specify that an original document has to be submitted. Please refer to the checklist for the list of documents as required by the Portugal consulate, ensure that you have all the documents as per your Visa Categories.
For Minors, please click here.
Visa application form (click here for online VAF):

All the fields on VAF need to be completed and in case a field is not applicable, then NA should be filled. VAF is a legal document, hence applicant must sign VAF in the designated boxes (no. 37 and under the disclaimer at the end of the application form).

Passport:

Signed passport, with at least 2 blank pages for visa purposes, must be valid for at least 90 days beyond the return date of the trip to the Schengen Area and has to be issued within the last 10 years on the return date of the intended trip to the Schengen Area.

Extended passport may still be valid, but when older than 10 years it is no longer acceptable for the Schengen countries; in this case applicant first needs to apply for a new passport.

Copies of passport's Bio page, passport's signature page and previous Schengen visas issued in the last 3 years also need to be provided.

Passports must be valid for at least three months after exiting the Schengen area

US Residence permit:

Notarized copy of alien residence card, or valid U. S. visa with original form I-94 and/ or I-20, I-AP 66, or I-512, if applicable. Visas and permits to re-enter the U. S. must be valid for 2 months beyond date of expiration of the Schengen visa. If applying for transit visa, a ticket showing destination to the final country must be presented.

Photo:

One recent (not older than 6 months), passport-size, colour photo with white background

Proof of current occupation:

Employee: recent (not older than 1 month) original & signed employer letter OR last 3 months pay slips.
Student: recent (not older than 1 month) original & signed university/college/school letter

Self- employed: recent (not older than 1 month) original & signed cover letter, confirming applicant's self-employment obtained from (if applicable):

Companies House: Certificate of Incorporation received upon registering business: if applicant's name is not mentioned on certificate, then additional proof demonstrating connection applicant – company should be provided
Recent Tax Return Statement for business to be submitted.

Unemployed/Retired

Receiving Benefits: recent original letter obtained from local Jobcentre or Pension Service
Not receiving Benefits: cover letter explaining applicant's financial situation

Housewife/man (only applicable to married couples): applicant's may be sponsored by their spouse/registered partner; in these cases the following needs to be provided:

marriage certificate (original + copy): when this document was issued outside the EU and is not in English or Portuguese, then it should be translated by a certified translator in the US
spouse/registered partner's passport (original + copy)
spouse/registered partner's proof of occupation i.e. employment letter.
spouse/registered partner's proof of funds
spouse/registered partner's cover letter (signed & dated) confirming sponsorship

Proof of funds:

Latest 3 months US current account bank statements showing applicant's name and an end balance dated within the last month prior to the visa application submission date; alternatively online bank account printouts are also accepted.

Bank balance needs to have a minimum amount equivalent $70/day of for the first day of stay in the Schengen Area +$40 for each additional day + outstanding accommodation and travel fees..

Proof of travel (airplane, train, boat, coach, (hired) car):

Fully paid/booked/reserved return travel tickets: mentioning applicant's name and travel details (date & time)

Proof of accommodation:

Pre-booked accommodation: confirmed accommodation (hotel, hostel, camping,…) reservation mentioning applicant's name, travel dates and accommodation address details.

If the applicant's name is not mentioned on the accommodation reservation, then a joint travel confirmation letter, signed and dated by the person whose name is on the reservation, must also be provided along with a photocopy of that same person's passport/ID card + passport's signature page, if signature is not on passport's bio page, and person's permit of stay in Portugal, if person is non EU citizen..

When accommodation is reserved for a group, then a list with the names of the group members will also be required; alternatively the group members their names may also be mentioned on the travel ticket.

accommodation provided by family/friends in Portugal: applicant's host's recent (not older than 1 month) cover letter (signed & dated) - confirming travel period and address of stay - is required, along with a copy of host's passport's bio page + host's permit of stay in Portugal, if host is non EU citizen. In addition, it is also required that proof is provided for the relation between the host and the applicant's address of stay, e.g. utility bill.

Travel Insurance:

The travel insurance – clearly showing the applicant's name - has to be valid throughout the complete territory of the Schengen Area and must cover the entire period of the applicant's intended stay in the Schengen Area; the minimum coverage for medical emergency and repatriation needs to be the equivalent to Euros 30,000 with Euros 0 deductibles
Photo Specifications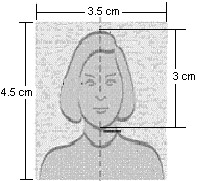 Please provide one recent colour photograph (not more than 6 months old) of yourself, according the following requirements:
Taken against a light (white or off-white) background so that features are distinguishable and contrast against the background.
Clear quality and with the face in focus.
Printed on normal photographic paper (camera print).
Full face, non-smiling (without sunglasses, a hat/cap or other head covering, unless the applicant wears such items because of their religious belief or ethnic background).
Please stick the photograph on the Visa Application Form.
If the photographs presented do not meet these requirements, then the visa application will be considered incomplete and applicant will be asked to take new photographs in the photo booth in the visa application centre.
Processing Time
The visa processing time is a minimum of 2 weeks, depending on the nationality of the applicant of the applicant and provided that a complete visa application is submitted; pleaseclick here for the list of nationalities that may have a extendedprocessing time.
Please click here to ascertain any dates that the consulate will be closed, as this will also affect the processing time of your application.
Article 23 for time lines of application processing.
Annex 16 for nationalities that require prior consultation
After a visa application has been submitted, it is still be possible for the consulate to request additional documents/information and by doing so this may prolong or delay the visa processing time.
Application Form
Please click Here to complete the visa application form. Please ensure you print and bring the completed application form when attending for your appointment.