Residency Visa
Overview
Long-stay visas, in compliance with existing domestic law, can be either temporary or for residency authorization purposes, depending on the duration of the stay and granting the visa holder an authorization to stay in the country according to different purposes: study, internship, work, medical treatment, among others.
Please Click Here to know more about the Portugal National Visa "D
Temporary stay visas: allow entry and stay in Portugal for less than a year. Temporary stay visas are valid during the entire stay and allow for multiple entries.
Under Temporary Stay visa the applicable categories are: Work, Study and Research, Professional training or Internship or Volunteer Work, Health, Youth Mobility- International Agreements, Religious Purpose and Exceptional reasons- upto 1 year.
The Temporary stay visa for periods of over 3 months is issued, in exceptional and dully justified cases ONLY.
Residency visas: allow two entries and are valid for a period of 4 months. During that time, the holder of a residency visa is required to request a residency permit with the Immigration and Border Services (SEF).
Under Residency Visa (Over 1 year) the applicable categories of visas are: Work, Study and Research, Professional training or Internship or Volunteer Work, Family Reunification and Fixed Residency.
For Family reunification (prior SEF consent required) : Residency visa for family reunification purposes
Fixed Residency over 1 year, v is for retirement purposes, religious purposes or for people living out of individual revenue.
Retirement Purpose
People living out of individual revenue
Religious training within a religious congregations
Religious person undertaking studies in a recognized institution
JURISDICTION RESTRICTIONS:
WASHINGTON DC: AREAS OF JURISDICTION
States of: Alabama, Arkansas, Florida, Georgia, Illinois, Indiana, Iowa, Kansas, Kentucky, Louisiana, Maryland, Minnesota, Mississippi, Missouri, Nebraska, North Carolina, North Dakota, Ohio, Oklahoma, South Carolina, South Dakota, Tennessee, Texas, Virginia, Wisconsin, District of Columbia.
NEW YORK: AREAS OF JURISDICTION
States of: Connecticut, Michigan and New York Territories of American Virgin Islands, Bahamas, Cayman Islands, and Puerto Rico
SAN FRANCISCO: AREAS OF JURISDICTION
States of: Alaska, Arizona, California, Colorado, Hawaii, Idaho, Montana, Nevada, New Mexico, Oregon, Utah, Washington and Wyoming
Documents Required
Important – Retention of document: Please be informed that after processing of Visa/Resident permit applications, Embassy/Consulates only return passport with payment receipt.
Other documents submitted along with your Visa/ Resident permit applications are not returned. We strongly encourage you to retain a copy of all the important document for your reference.
The list of documents below is not an exhaustive list of documents and the applicant could be asked for additional documents if desired by the Consulate General of Portugal.
Applicants always have to bring and show their original documents, but they only need to submit photocopies of the same; unless the requirements specify that an original document has to be submitted. Please refer to the checklist for the list of documents as required by the Portugal consulate, ensure that you have all the documents as per your Visa Categories.
General documentation
Official form;
Certified copy of the passport or other travel document, valid for an additional 3 months following the duration of the intended stay;
Two identical passport photographs, up-to-date and in good condition, allowing proper identification;
Transport document (return ticket);
Document certifying the third-country national is in a regular situation when the applicant is from a different nationality than that of the country where the visa is being requested;
Valid travel insurance covering necessary medical expenses, including emergency assistance and repatriation;
Form authorizing access to Portuguese criminal record by the Immigration and Border Services (SEF);
Criminal record from country of origin or country of residency for over one year (minors under 16 years of age are exempt from producing any criminal record related document);
Proof of means of subsistence, as stipulated by law;
Proof of subsistence means can be made through a statement of responsibility, signed by a Portuguese national or by a foreign national legally resident in Portugal.
RELIGIOUS PURPOSE:
Certificate from the church or congregation they belong to, as long as such church or congregation is recognized by the Portuguese legal system.
RETIREMENT PURPOSE:
Document certifying retirement amount.

PEOPLE LIVING OUT OF PERSONAL REVENUE:

Document certifying revenue from movable and immovable property; intellectual or financial assets.

FAMILY REUNIFICATION:

Notification of family reunification authorization by the Immigration and Border Services (SEF);
Proof of family relationship: birth certificate or marriage certificate;
Minors or unfit persons require a travel authorization by the parents or legal guardian.

TEMPORARY STAY VISA OVER 3 MONTHS- EXCEPTIONAL AND WELL-FOUNDED CIRCUMSTANCES: This is applicable namely for programs of study in a Certified institution, Student exchange, Unpaid professional internship, Volunteer work or pursuant to WTO obligations or those arising from conventions and international agreements to which Portugal is a state party.

Proof of exceptional circumstances; or,

For study purposes for less than a year in a certified institution, or in the framework of a student exchange program, for a similar duration, the following documentation is necessary:

Document issued by the institution and document certifying enrollment;
Statement signed by the host family; or,
Proof of housing.
To determine means of subsistence, means obtained through grants or scholarships should be taken into consideration. Proof of means of subsistence can be produced through a statement of responsibility issued by the workers hosting entity.

For professional internship purposes, the following documents are necessary, document issued by the company or professional training facility, officially recognized, certifying acceptance to the program, and when necessary, training contract and calendar. Proof of means of subsistence can be produced through a statement of responsibility issued by the organization hosting interns.
For volunteer work purposes, there is a minimum age requirement as set by the relevant ordinance issued by the Government entity responsible for home affairs. Additionally, the following documents are necessary: document issued by an officially recognized institution in charge of the volunteer program, in Portugal, certifying admission to the program. Proof of means of subsistence can be produced through a statement of responsibility issued by the organization hosting volunteers.

In the framework of international commitments related to free movement of services, the following documents are necessary

Service agreement contract between the third-country national and the final consumer;
Certificate of technical qualification for the delivery of the referred service.

Additional Document- MINOR APPLICANT

In case of minors, application forms should be signed by the parent holding parental responsibility or legal guardian;
When minors are not travelling with both parents, or are travelling with a third person, a travel authorization of one or both parents respectively, or a court order, is required.
Photo Specifications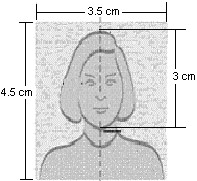 Please provide one recent color photograph (not more than 6 months old) of yourself, according the following requirements:
Taken against a light (white or off-white) background so that features are distinguishable and contrast against the background.
Clear quality and with the face in focus.
Printed on normal photographic paper (camera print).
Full face, non-smiling (without sunglasses, a hat/cap or other head covering, unless the applicant wears such items because of their religious belief or ethnic background).
Please stick the photograph on the Visa Application Form.
If the photographs presented do not meet these requirements, then the visa application will be considered incomplete and applicant will be asked to take new photographs in the photo booth in the visa application center.
Processing Time
The visa processing time is a minimum of 4 weeks for temporary stay visas (up to one year) or 8 weeks for long term stays (over one year), depending on the nationality of the applicant of the applicant and provided that a complete visa application is submitted.
Please click here to ascertain any dates that the consulate will be closed, as this will also affect the processing time of your application.
After a visa application has been submitted, it is still be possible for the consulate to request additional documents/information and by doing so this may prolong or delay the visa processing time.
Application Form
Please

click Here

to complete the visa application form. Please ensure you print and bring the completed application form when attending for your appointment.