Humanitarian Visa
Overview
Humanitarian visas are issued to citizens of France, other countries or stateless persons entering the Russian Federation with the aim of establishing, renewing or strengthening academic, cultural or socio-political ties, taking part in sports, religious activity, charitable work or supplying humanitarian aid.
This visa is issued on the basis of an invitation submitted by the Ministry of Internal Affairs of the Russian Federation (MOI), or on the basis of a written invitation from an organization or an authority, or on the basis of a decision by the Ministry of Foreign Affairs of the Russian Federation (MFA of Russia).
Humanitarian visas may be single-entry or double-entry with a period of validity of 90 days, or multi-entry and valid for 1 year (unless stipulated otherwise under an international agreement with the Russian Federation).
Please note - On a multi-entry, standard humanitarian visa you may not stay in the Russian Federation for more than 90 days in each 180-day period.
Please be reminded that a visa can be accepted, modified or refused by the Embassy of the Russian Federation or may be subject to additional verifications.
Visa Fees
Please note that each visa application needs to be accompanied by a visa fee for the amount applicable to particular visa type. Visa fees vary depending on the nationality of the applicant, visa type, number of entries and processing time.
Please note that in addition to the visa fee applicants are required to pay the Russia Visa Application Centre Service Charge of EUR 30 (including VAT) for each visa application. An additional EUR 30 (including VAT) will be charged for provision of Express Visa Services.
The Russian Visa Application Centre accepts payments for visa fees, mandatory VFS Service Charge and optional Value Added Services, which the applicant may choose to purchase.
Payments can be made at the Russian Visa Application Centre in Euros by cash or by major Credit or Debit Cards.
Please note that all payments made are non-refundable.
Visa fees for French Citizens and Citizens of the European Union
Duration
Consular Fees
Single, double or multiple entry
4-20 working days
35
Euros
1-3 working days
70
Euros
According to the Agreement between the Russian Federation and the European Community on the facilitation of the issuance of visas to the citizens of the Russian Federation and the European Union, in some cases, depending on the category of applicant and the purpose of travel, you can be exempted from paying the consular fee for the processing of humanitarian visa.
Note - If you are a stateless person or not a citizen of France, please find out about your visa fees by contacting our Call-Centre operators at the Russian Visa Application Centre.
Visa fees and processing time for citizens of other countries and stateless persons are calculated according to the "Tariff for consular fees, charged by Consular institutions of the Russian Federation".
Transfer and re-issue of a valid visa
Note – before submitting your documents, please contact our call centre to verify the document requirements and processing time for your visa.
Documents Required
Kindly print the check list which corresponds with the visa category you wish to apply for and attach it with your application. It must be filled in and signed. Incomplete applications will not be accepted.

Print Humanitarian Visa Checklist
Photo Specifications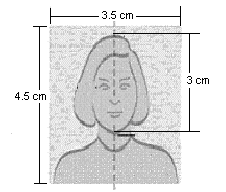 Note: The photographs submitted must meet with these specifications.
Please provide one recent photograph (not more than 6 months old) of yourself. The photographs should be:
3,5 x 4,5 cm taken against a light background (white or off-white) so that features are distinguishable and contrast against the background.
Clear quality and with the face in focus.
Printed on normal photographic paper (camera print).
Full face, non-smiling (without sunglasses, a hat/cap or other head covering, unless the applicant wears such items because of their religious belief or ethnic background).
Please stick the Photograph on the Visa Application Form.
Note: Please follow these instructions carefully. If photographs presented do not meet these requirements your application will be considered incomplete.
Processing Time
The Embassy of the Russian Federation in France processes visa applications and decide whether or not to issue a visa within the processing times service standards (usually between 4 and 10 working days). This is subject to a complete set of documents being provided and consular fees paid.
The processing times may vary according to the decision of the Consular establishment.
In emergency cases an urgent visa application may be submitted. In such cases the processing time can be shortened to just 3 working days or less, if an order to that effect has been given by the Ministry of Foreign Affairs of Russia, the Federal Migration Service of Russia or the Ambassador or Consul General of the Russian Federation.
In addition, some applications may take 30 days if deemed necessary by the Consulate.
Download Forms
To complete the online visa application form, please go Here.