Austrian National Visa (Visa D)
Overview
If you intend to stay in Austria for more than 90 days and up to 6 months AND you are not a citizen of an European Union or European Free Trade Association member state, you need to apply for a national Austrian visa (Visa D).
During the validity of the Visa D the holder is entitled to enter transit and stay up to 90 days in other Schengen countries.
Additional information for students and visiting scholars is available at the website of the Embassy of Austria.
Documents Required
Important: You will need to complete the Registration Process first. You cannot submit only the application form and or checklist. Review the steps to apply carefully to ensure you submit a completed application set.
Application for Austrian National Visa (Visa D)
Travel insurance is mandatory for all Schengen countries. If you have not purchased, please click here
Photo Specifications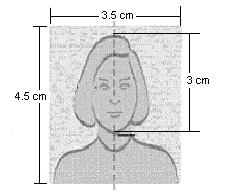 Please provide one recent (not older than 6 months) color photograph of yourself, meeting the following requirements:
Taken against a plain light (white or off-white) background so that features are distinguishable and contrast against the background

Clear quality and with the face in focus

Full face: non-smiling, no sunglasses, no hat/cap or any head covering, unless the applicant wears such items because of his/her religious belief or ethnic background

Printed on normal photographic paper (camera print)
Photograph attached (glued) to the Visa Application Form
If the photographs presented do not meet these requirements (see examples here), then the visa application will be considered incomplete and applicant will be asked to take new photographs in the photo booth in the visa application center.
Processing Time
Applications are processed in the order of receipt. Processing usually takes 15 business days from receipt by the Embassy of a complete application and may take longer during peak times and in exceptional circumstances. This estimate excludes the shipping of applications to the Embassy and the return of passports to applicants. The Embassy does NOT provide status updates on visa applications.
Applicants are advised to apply at least 30 days in advance to avoid disappointment.
PROCESSING TIMES BASED ON NATIONALITY OF APPLICANTS
Processing times for applicants of the following countries may take a minimum of 3 weeks. Please be aware that the processing time can take longer in certain cases.
| | | | |
| --- | --- | --- | --- |
| Afghanistan | Algeria | Bangladesh | Democratic Republic of Congo |
| Democratic People's Republic of Korea | Egypt | Ghana | Indonesia |
| Iraq | Iran | Jordan | Kazakhstan |
| Lebanon | Libya | Liberia | Mali |
| Morocco | Mauritania | Niger | Nigeria |
| Pakistan | Palestine | Philippines | Ruanda |
| Saudi Arabia | Somalia | Sri Lanka | Sudan (North Sudan) |
| South Sudan | Syria | Togo | Tunisia |
| Yemen | - | - | - |
Download Form