Family Reunification and work permits
Overview
A residence permit is given only upon approval by the Danish Immigration Service in Copenhagen – the process may take 4-6 months. Such a permit will be valid for Denmark only, not the entire Schengen-area. Application forms can be downloaded here. (Please note that each of the Immigration Service's application forms for Danish residence and work permits have been developed for a specific type of applicant.)
Further information can be found at the website of the Danish Immigration Service.
Visa Fees
| VISA FEES | VISA FEES | VFS SERVICE FEE IN KES |
| --- | --- | --- |
| Residence/Work Permit ( Long Stay – Type D) |  1455 DKK | KES 1160 |
Please Note:
From 01 July 2019, The Ministry of Foreign Affairs of Denmark including all Danish diplomatic missions are introducing mandatory online payment of the embassy fee for residence or work permit. The embassy fee must be paid online using this link https://dys.um.dk/permit/.The receipt for the payment must be submitted at the Danish Visa Application Centre (VFS) when you hand in your passport, relevant documentation and supply biometrics. The embassy fee and the fee to the Danish Visa Application Centre (VFS) must be paid in addition to the fee to The Danish Immigration Service.
The applicable VFS service fee in Kenyan Shillings is as per the current exchange rate. It is subject to change without notice. The fee is non-refundable.
VFS service fee must be paid via M-pesa at Visa Application Centre after completion of documents checks by the VFS Counter Staff.
Visa Application Centre offers an optional service at a nominal additional cost. Please see more detail from Additional Services tab.
Only non-holders of M-Pesa account can pay VFS service fee into-
Barclays Bank Kenya Ltd., Account no: 2030 008 491,
Account name: VFS Kenya Ltd – Denmark Holding.
Deposit slip for payment must be presented, when applying for visa at VFS.
All fee deposits are to be made only in cash. Please do not effect bank transfers.
Photo Specifications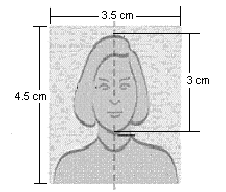 Note : The photographs submitted must meet with these specifications.
Please provide one recent photographs (not more than 3 months old) of yourself. The photographs should be in color and:
Taken against a light background (white or off-white) so that features are distinguishable and contrast against the background.
Clear share quality and with the face in focus.
Printed on normal photographic paper (camera print).
Full face, non-smiling [without sunglasses, a hat/cap or other head covering, unless the applicant wears such items because of their religious belief or ethnic background].
Please don't staple or glue the Photograph on the Visa Application Form.
Note: Please follow these instructions carefully. If photographs presented do not meet these requirements your application will be considered incomplete. Our Photo booth strictly adheres to the specifications required for your photograph.
Online Application Form
There are different applications forms dependent on which type of residence permit you apply for. You can see the list of forms on this link and download the relevant form for your application.