Visit
Overview
Applicants can obtain a visa to visit family and friends as well as for tourist visits. Applicants are strongly advised to visit the website of the Danish Immigration Service regarding eligibility and rules.
Visa Fees
| Visa Category | Visa Fee in EURO | VFS Service Fee in PKR |
| --- | --- | --- |
| Visit | 80 | 15698 |
| Schengen Visa (child between the age of 6 and 11 years) | 40 | 7915 |
For Visa fees please visit the Embassy of Denmark in Pakistan website
*The above fees are with effect from 14 September2020.
Please Note:
Note: From the 01 July 2019, you must fill in your visa application and pay the visa application fee online using ApplyVisa.um.dk
The applicable visa fee is as per the current exchange rate as set by the Embassy of Denmark. It is subject to change without prior notice.
All the fees are non-refundable.
There is a service charge of EUR 13 (PKR 2571) levied per application in addition to the visa fees
All fees must be paid in cash at the application centre.
Visa Application Centre offers an optional service at a nominal additional cost. Please see more detail from Additional Services tab.
Documents Required
Please print out this Checklist and prepare the required documents accordingly, also prepare an additional copy of your Passport ID page for Passport Collection. Application forms and detailed information regarding the documents required for a visit visa can be downloaded from the website of the Embassy of Denmark, Pakistan here.
Please click here for the document checklist for visiting family and friends in Denmark.
Note:
Kindly make sure that your application contains sufficient, correct and adequate information. All information must be correct and reflect your planned trip.
Applicant can be asked for additional documents or may be called for an interview if deemed necessary by the Embassy.
Photo Specifications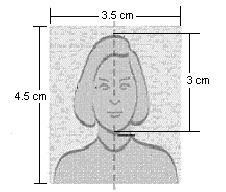 General
The photograph for each visa applicant must be an un-mounted, full face photo, color photo as described below
The photograph must have been taken within the last six months.
Two photographs must be submitted.
Photo Size
The photo for each visa applicant submitted must measure :
35 mm x 45 mm with the head centered in the frame.
The head (measured from the top of the hair to the bottom of the chin) should measure atleast 30 mm.
Photo Appearance
The photograph must be a full-face front view in which the visa applicant is facing the camera directly.
The face should cover about 70-80 percent of the photo area.
The photograph MUST be in color and have only a white or light background. Photos with dark, busy, or patterned backgrounds will not be accepted.
In general, the applicant's head, including both face and hair, should be shown from the crown of the head to the tip of the chin on top and bottom and from hairline side-to-side. It is preferable that ears be exposed.
Sunglasses or other wear, which detracts from the face, are not acceptable unless required for medical reasons (an eye patch, for example).
A photograph depicting a person wearing a traditional facemask or veil that does not permit adequate identification is not acceptable.
Note : Please follow these instructions carefully. If photographs presented do not meet these requirements your application will be considered incomplete.
Processing Time
The Danish mission has 15 days to make a decision on your visa application from the date the mission receives your passport, application and biometrics. In some cases, the processing time can be extended to 45 days when further case processing is needed
Online Application Form
Register your visa application online and book an appointment with VFS
"NEW MANDATORY ONLINE VISA APPLICATION: From the 01 July 2019, you must fill in your visa application and pay the application fee online. After you have applied and paid the visa fee online, you must print the cover letter and payment receipt from ApplyVisa '' .
Click here to fill in your visa application form
After completing the visa application form and paying visa fee online, you must book an appointment to submit your documents at VFS by clicking here. Make sure to bring along all the required documents and hand in supporting documents at the Visa Application Centre.
Make sure you are on time for your appointment; for those showing up late there is no guarantee that the application can be submitted and applicants may need to reschedule their appointment. Kindly, notify the Denmark visa application centre if you are unable to make your appointment.