Employment Visa
Overview
This visa allows you to travel to India to work for an Indian company, to become an expatriate in an international company or organization…
The following persons are not eligible for employment visas:
Non South African passport holders who have not been resident in the Republic of South Africa for more than 24 months (proof required)
Minors
Generally, the High Commission of India issues a visa valid for 6 months or 1 year. It is obligatory for any visa extension or renewal of Employment visa to be requested in India at the FRO (Foreigner's Registration Office in Delhi) or the FRRO (Foreigner's Regional Registration Office). This visa permits unlimited stay during the validity of the visa but any stay exceeding 6 months requires a registration at the FRO/FRRO within 14 days of your arrival in India.
Please note: Dependant/s of Employment Visa Holders is required to apply for an Employment Dependant Visa and follow the Employment Checklist.
Please note: the validity of a visa begins on the day it is issued by the High Commission of India and not on the date of departure. Applications will not be accepted more than 30 days prior to departure.
Visa Fees
Your payment allows you to deposit an application. The latter can be accepted, refused or modified by the High Commission of India in its full right. Once fees have been paid, they cannot be refunded, even in a case of an application refusal or cancellation.
Credit Card or Debit Card
Deposit into the bank account as per the below details.
Please note EFT payments are not accepted



Name of Bank: Nedbank

Account Number: 1012505804

Branch Code: 198 765

Account Name: VFS Visa Processing SA Pty Ltd

Please use passport number reference number on payment.
Fees Chart
The price of your application is made up of fixed service charges and variable consular charges. Please consult the fees chart below in order to calculate the total amount to pay.
Documents Required
Kindly print the check list which corresponds with the visa category you wish to apply for and attach it with your application. It must be filled in and signed. Incomplete applications will not be accepted.
Photo Specifications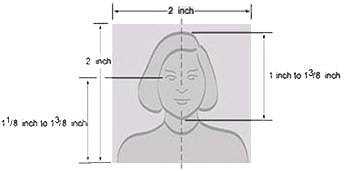 Photographs should be in colour and strictly as per the specifications below.
Un-mounted - 2 inch x 2 inch in size.
Face should cover about 70 to 80% of the photo area.
Frame Subject with Full Face, Front view, Eyes open
Taken within the last 6 months to reflect your current appearance.
The photographs must be clear, well defined and taken against a plain white background.
Appropriate brightness and contrast showing your skin tones naturally
Even lighting (no shadows across or behind the face)
Face must be square to the camera with a neutral expression, neither frowning nor smiling and with your mouth closed.
If you must wear a head covering for religious reasons, make sure your full facial features are not obscured.
Non-tinted prescription glasses are allowed as long as your eyes are clearly visible. Make sure that the frame does not cover any part of your eyes. Sunglasses are not acceptable.
Headphones, wireless hands-free devices, or similar items are not acceptable in your photo.
Photograph for Child/babies - The photograph should show the baby or child awake, looking straight at the camera with mouth closed and nothing covering the mouth. It should also show both edges of the face clearly (no toys, blankets, chair backs or other people visible) and no hair across the eyes.
Please Note:
A photo service is available in all of our centres.
Processing Time
The High Commission of India and VFS Visa Processing SA Pty Ltd cannot, in any circumstances, be held responsible for any applications which are not completed in time for your intended date of departure. Kindly note that obtaining a visa is not automatic; your application may be accepted, modified or refused by the High Commission of India in its full right.
Applications processed individually
Each application is processed individually by the High Commission of India: as a result processing times may vary between applications that appear to be similar.
Minimum processing times
The company VFS Visa Processing SA Pty Ltd has no influence over the processing times of a visa application: these depend essentially on the High Commission of India. We are therefore not in a position to guarantee maximum processing times. We are only able to communicate minimum processing times, provided for information purposes only.
Download Form
Online Application Form
All applicants are required to complete the online application form and submit the same at the preferred India visa application centre. Please click here to complete your application form online.

Declaration form (Mandatory for all applicants)
Additional Forms -
Scheduling Of An Appointment.
Kindly note it is mandatory to schedule an appointment prior to submission of any application, Please click here to schedule.
Collection Of Passports
Applicants are advised to collect their passports personally strictly upon producing their receipt at the time of application. An Authorization letter should be given to a representative to collect the passport and who is able to check all particulars in the passport. The collector must carry his/her ID and produce the same on demand. Agent/collector needs to produce an authorization letter from the applicant.
Click here for the authorization letter.