Transit Visa
Overview
Who can Apply?
Applicant granted a particular type of Visa is required to strictly adhere to the purpose of the visit declared by him/her. Any violation of Visa category may attract appropriate legal action or deportation.
A Transit Visa is granted for the sole purpose of enabling the holder to travel through India to reach his/her ultimate destination. Change of purpose is not allowed.
The visa will ordinarily be valid for 15 days of date of issue. The Transit visa is valid for direct transit only for a maximum 72 hours. For a stay in India beyond 3 days, an appropriate visa should be obtained.
Please note that the duration of the visa is at the sole discretion of the Issuing Authority and the validity of the visa begins from the date of issue and not from the date of travel on your application form.
Fees and Charges
If you wish to use Express service there will be additional cost of 4,720 KRW.
(Please be noted that Express service is available only for Korean passport holders.)
You may use a courier service (optional) with a cost of 7,000 KRW to receive your passport at your place for your convenience.
For more information about additional services, please click here.
Please remit your fees to the following bank account:
Name of Bank: Hana Bank
Bank Account Number: 192-910009-22504
Account Holder Name: 브이에프에스코리아(VFS South Korea)
Payment receipt must be submitted to the centre in Seoul along with your application.
Please be noted that personal / company cheques, mobile / Phone banking receipts, ATM receipts or cash would not be accepted.
Payment amount:

Visa fee on the below table + SMS Service (KRW 1,000, Optional) + Additional services (Optional) = Total amount.
- Opting SMS service (KRW 1,000 won) would be recommended due to a security reason.
Service fee (5,770 KRW) is included in the below fee table. (Below fees are applied from 20 May 2019 )

Click here for your visa fee confirmation.
| Nationality | Visa Service | Duration | Entries | Visa Fees (Won - South Korea) |
| --- | --- | --- | --- | --- |
| REPUBLIC OF KOREA | TRANSIT VISA | 15 DAYS | SINGLE | 32,370 |
Photo Specifications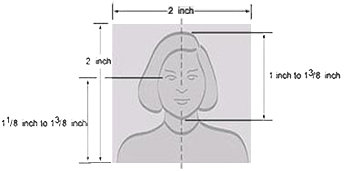 India Visa Application Center in Seoul provides Photograph service at a cost of 7,500 KRW.
Photographs should be in color and strictly as per the specifications below.
Photographs must be taken within the last 6 months.
Un-mounted - 2 inch x 2 inch in size.
Face should cover about 70 to 80% of the photo area.
Frame Subject with Full Face, Front view, Eyes open
The photographs must be clear, well defined and taken against a plain white background.
Appropriate brightness and contrast showing your skin tones naturally
Even lighting (no shadows across or behind the face)
Face must be square to the camera with a neutral expression, neither frowning nor smiling and with your mouth closed.
If you must wear a head covering for religious reasons, make sure your full facial features are not obscured.
Non-tinted prescription glasses are allowed as long as your eyes are clearly visible. Make sure that the frame does not cover any part of your eyes. Sunglasses are not acceptable.
Headphones, wireless hands-free devices, or similar items are not acceptable in your photo.
Photograph for Child/babies - The photograph should show the baby or child awake, looking straight at the camera with mouth closed and nothing covering the mouth. It should also show both edges of the face clearly (no toys, blankets, chair backs or other people visible) and no hair across the eyes.
Processing Time
Strictly do not finalize travel plans before receiving the service applied for. Processing times below are average processing times. Please plan your travel accordingly.
VFS/Embassy of India would not be responsible for any inconvenience/problems faced as a result of finalizing travel plans before obtaining the relevant service.
Applicants sending their documents by Post/Courier are requested to ensure that they are completed and meet requirements. Processing times mentioned do not include transit time by post/courier. Transit times by Courier are generally 1-3 days on average and may be higher in remote or rural areas.
Average of 5 Working Days including submission day: For Korean nationals
A minimum of 8 Calendar days including submission day: For Non-Korean nationals other than Pakistan
2 ~ 3 working days including submission day for Express service: Only for Korean nationals

A minimum of 45 days but could take more time:

Nationals of Pakistan or any applicant (irrespective of current nationality) who previously held Pakistani nationality
Checklist and Application Forms
The checklist for the application category that you apply for will provide details on which specific forms you may need to download. In some instances, there may be more than one form.

Complete a separate checklist and application form/s for each person applying. Ensure the documents are completed accurately and signed where needed.
For Chines passport holder : All chines applicants are required to submit E-ticket to visit India and a balance certificate from bank accounts in addition to other supporting documents mentioned on the checklist above.

Embassy of India requires all applications to be completed online. Click "Apply Now" to continue.
Incomplete applications or applications with incorrect photographs specifications cannot be accepted and will be returned.