Sports, Cultural and Professional
Overview
Transit Schengen visas are visas that allow the holder to pass through one or more Schengen member states on the way to a country outside the Schengen Space.

The Validity of visa is from 1 to 5 days
Visa Fees
| VISA CATEGORY | VISA FEE | VFS LOGISTICS FEE | TWO-WAY SHIPMENT FEE (MANILA-BEIJING V.V.) | TOTAL PAYABLE AT VFS (CASH) |
| --- | --- | --- | --- | --- |
| Sports, Cultural and Professional | 4510 | 1580 | 1460 | 7550 |
| Sports, Cultural and Professional (6-12 years) | 2250 | 1580 | 1460 | 5290 |
| Sports, Cultural and Professional (gratis) | 0 | 1580 | 1460 | 3040 |
NOTES:
The applicable visa fee is as per the current exchange rate. It is subject to change.
All fees are non-refundable.
The visa application fee should be settled and paid in cash at the submission window inside the Visa Application Centre.
Aside from the visa fee, you will also need to pay the service fee and shipment fee as stated above
At the Malta Visa Application Centre you can find the next additional services
Documents Required
Notes:
If the checklist states that you need to provide the original document, please bring the original copies when you submit your application. Otherwise, we will not be able to accept your application.
*For those documents which are mentioned to be "notarised" pertains to "notarised or authenticated by Department of Foreign Affairs".
Other documents may be required by the Embassy of Malta in Beijing China
Photo Specifications
Applicants, submit your Application form with the new photo format, as explained below: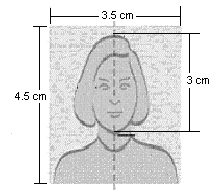 General
The photo must fulfill the norm specified by the ICAO (International Civil Aviation Organization).

Use coloured photo with plain white background.
The photo must be no more than 6-months old (not used in any visas).
Not tilted picture (portrait style) showing both edges of face clearly (hair behind ears).
Close up of the head and top of the shoulders so that the face takes up 70–80% of the photograph.
Photo in sharp focus and clear.
Attaching the Photo to the Application form
Glue one photograph on the designated space of the application form
Processing Time
For Schengen processing time will be a minimum of 15 working days and for D-National Malta Visa will be a minimum of 15 working days. However, for certain cases, the Consular Services may decide to extend the processing time.
Download Form
Application Form
This page hosts the form required for your Visa Application. Please click on the relevant form to download your visa application form.
To download a form:
Click on the form link

When the form opens, save the form on your computer.
OR
Press the right button on your mouse on the required link.

Select Save Target As from the list

Save the form on your computer.