Carribean visa short stay
Overview
If you are a South African national and you have a valid Schengen visa you do not need a Visa for the Dutch part of the Caribbean.
The visa for the Dutch part of the Caribbean is a non-Schengen visa. The visa is valid for all parts of the Dutch Caribbean.
For a short stay in one of the Dutch Caribbean, you may require a Caribbean visa. A Caribbean visa is valid in Aruba, Curaçao, St Maarten, and the Caribbean Netherlands (Bonaire, St Eustatius and Saba).
Countries whose nationals do not require a visa for the Caribbean part of the Kingdom: click below:
Please note: Incomplete applications will not be accepted.
Visa Fee
Please note that VFS Global offers an additional optional service for visa applicants in South Africa. VFS Charges an extra service fee for this service, to be paid by the applicant.
For the official visa fees charged by the Dutch government, click here.

VFS service charge:

Apart from the visa fee, VFS service charge in ZAR 400 (for submission with biometrics) inclusive of VAT per application will be levied for applicants applying at the visa application centre.

The only acceptable modes of payment of Visa fees are by credit/debit card (Only at the Visa Application Centre) and Cash Deposit at Bank and Deposit Slip (Original) needs to be carried as evidence of payments when submitting your application at VFS Global Netherlands Visa Application Centre.

The VFS Global Service fee will be collected at the counter:-
Visa Account details:

Below are the bank details for visas only

Bank Name: NedBank
Branch Name: Corporate Client Services
Branch Code: 198765 (Universal Code)
Account Name: Visa Processing SA - Netherlands
Account No: 1454112530

Not Accepted
It is important that the following methods of payment will not be accepted: Electronic Fund Transfer (EFT), Cheque payments and any methods not mentioned above are currently not accepted. Please note that NO Diners club or American express cards can be used to pay for the application.

All fees are non-refundable.
Documents Required
Caribbean Application Form - Please fill in the form Online and print copies. The copies must be brought to the Visa Application Center.
All documents to provide as per the below checklist upon submission of your application.
Additional documents for the purpose of tourism:
Proof of accommodation:

hotel/guest house: confirmed hotel reservation (no vouchers)
Additional documents for applicants visiting friends or family:
Declaration of Guarantee of the host in the Caribbean if you intend to stay at the invitation of a resident, organization or other entity.
Copy of holder page of the passport of the host. If the sponsor/host is foreigner, a copy of the residence permit is also required.
If the host is paying for all your expenses, host needs to show proof of financial means (e.g. bank letter, employment letter, bank statements of last three months etc)
Additional documents for the purpose of business:
An official invitation letter from the company in the Caribbean as well as a letter from the employer stating that company is responsible for cost of the trip. For conferences: proof of registration and payment.
Additional documents for minors (children under 18):
Unabridged birth certificate.
If the child is traveling alone: Permission minor child consent form signed by both parents with a copy of their passport or driver's license. If the child travels with only one parent, the other parent must sign the permission minor child consent form with a copy of their passport or driver's license. If only one parent has guardianship of the minor, court documents stating so must be presented.
Photo Specifications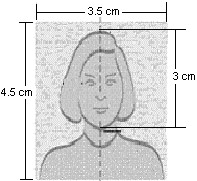 Note: The photographs submitted must meet with these specifications.
Please provide One recent photographs (not more than 3 months old) of yourself. The photographs should be in colour and:
Taken against a light background (white or off-white) so that features are distinguishable and contrast against the background.
Clear share quality and with the face in focus.
Printed on normal photographic paper (camera print).
Full face, non-smiling [without sunglasses, a hat/cap or other head covering, unless the applicant wears such items because of their religious belief or ethnic background].
Please stick (not stapled) one Photograph on the Visa Application Form and the second photograph to be handed over separately along with the documentation during submission at the visa application center.
Note: Please follow these instructions carefully. If photographs presented do not meet these requirements your application will be considered incomplete.
Processing Time
Applications for a Caribbean visa should be lodged at the VFS Global Visa Service Center, at least 15 working days before the intended journey
You cannot apply for a visa more than six months in advance.
Processing time varies from 3 business days to 3 weeks. This time is required to process the application and for the documents to be sent to the Embassy.
It may take considerably longer if any documents are missing or if further information is required. You are therefore advised to submit your application well before the date on which you are planning to travel.