Tourist
Overview
This visa is solely for the purpose of leisure travel including vacationing, cruising, sightseeing and other recreational activities. If during any portion of their visit to the Netherlands the applicant intends to engage in business, or official duties he/she must refer to other relevant visa categories.
Please note: incomplete applications will not be accepted
Applicants need to apply for Schengen Visas at the Embassy/Consulate of the country of your main destination or longest stay. If this is difficult to determine (For Example cruises, bus tours) please apply at the Embassy/Consulate with first point of entry at Schengen State.
Visa applications must be lodged at least 3 weeks before the intended departure date. An application can be lodged max. 3 months before the intended departure date. All applications will be accepted through appointments only.
In principal the spouse and/or dependent(s) of EU nationals can not exercise the exemption of paying for the visa fee and submitting less (financial) supporting documentation when visiting the country of origin of the EU national.
In other words: a South African national who is married to a Dutch person and having the intention to visit (both) The Netherlands as main destination is requested to respect the list of ' Documents Required' and submit all documents as mentioned on this website. Prior conditions about visa procedures can not be used as precedent.
Visa Fee
Please note that VFS Global offers an additional optional service for visa applicants in South Africa. VFS Charges an extra service fee for this service, to be paid by the applicant.
For the official visa fees charged by the Dutch government, click here.

VFS service charge:

Apart from the visa fee, VFS service charge in ZAR 400 (for submission with biometrics) inclusive of VAT per application will be levied for applicants applying at the visa application centre.

The only acceptable modes of payment of Visa fees are by credit/debit card (Only at the Visa Application Centre) and Cash Deposit at Bank and Deposit Slip (Original) needs to be carried as evidence of payments when submitting your application at VFS Global Netherlands Visa Application Centre.

The VFS Global Service fee will be collected at the counter:-
Visa Account details:

Below are the bank details for visas only

Bank Name: NedBank
Branch Name: Corporate Client Services
Branch Code: 198765 (Universal Code)
Account Name: Visa Processing SA - Netherlands
Account No: 1454112530

Not Accepted
It is important that the following methods of payment will not be accepted: Electronic Fund Transfer (EFT), Cheque payments and any methods not mentioned above are currently not accepted. Please note that NO Diners club or American express cards can be used to pay for the application.

All fees are non-refundable.
Documents Required
Schengen Application Form - Please fill in the form Online and print copies. The copies must be brought to the Visa Application Center.
One recent(within last 3 months) , good quality, passport sized, colour photographs on a clear light background (grey/white)
Passport, valid for a period of at least 3 months after the applicant's last day of stay in the Schengen states. Please ensure that the passport has 2 blank pages.
If not a South African citizen, a residence permit valid for a period of at least 3 months after the applicant's last day of stay in the Schengen States.
Full round trip flight reservation (name must reflect clearly with travel dates). Make sure that you submit your application at least 15 days before the intended travel date mentioned on your flight reservation.
Travel/health/accident insurance: an insurance policy stating that the applicant is covered by a Schengen Travel Medical Insurance with Netherlands being mentioned on the Visa letter. i.e. minimum medical coverage of the Rand equivalent of €30,000.00 for all medical expenses, including repatriation dead or alive, occurring in any Schengen country. This visa letter must reflect applicants name, duration of cover for full stay
Proof of sufficient funds (no cash) for duration of stay - Up to date transaction history of last three months as close to the application date as possible with each page stamped from the bank and name should reflect. Only Current,Cheque or Savings account will only be accepted. . Overdraft accounts will not be accepted (positive amount of 34 euros per day must reflect).
Employment letter(under company letterhead and signed) confirming position and leave approval for the exact travel dates the applicant will be out of SA and salary to reflect. If self-employed you need to submit your companies documents (CK, CC) or a letter from your accountant confirming that the business exist or company SARS document. All students require letter from School(under school letterhead and signed) confirming enrolment and awareness of trip and will commence schooling once completed / UniversityLetter, applicants to provide proof of registration for the year under the univeristys letterhead
Copy of Hotel Reservations/vouchers/cruise itinerary's for the entire stay(other Schengen hotel bookings as well). Applicants names to clearly reflect(if in someone else's name: a signed letter from them confirming applicant will be staying in same booking and a copy of their ID/Passport) Each Night must be accounted for.
Copy of bio data page from passport.
ADDITIONAL DOCUMENTS FOR MINORS (Children under 18):
Unabridged birth certificate.
Certified copy of Parents passport or Identity document.
If the child is traveling alone: Permission minor child consent form signed by both parents with a copy of their passport or driver's license. If the child travels with only one parent, the other parent must sign the permission minor child consent form with a copy of their passport or driver's license. If only one parent has guardianship of the minor, court documents stating so must be presented. All these documents need to be certified copies.
Foreign passport holders travelling with their Dutch citizen spouses to the Netherlands need to submit the following documents:
Schengen application form fully completed and signed by the applicant.
Marriage certificate/ Unabridged birth certificate (Minors) and copy of Dutch spouse's Netherlands passport with proof of legal stay in the country (employment letter, work permit etc.)
1 Recent colour photo.
Applicant( as well as Dutch spouse's) flight ticket/itinerary or provisional booking
If the Dutch host is living in South Africa, it is not necessary to submit the standard invitation/guarantee document (garantstellingsbrief). This form can be downloaded instead and the signature of the Dutch host can be legalized by the Netherlands Embassy or Consulate. Please make an appointment for legalization of the signature.
Standard guarantee form needs to be completed in the Netherlands if applicant will be staying with family or friends. If staying in a hotel, a hotel reservation.
This means that this category of applicants need to submit two letters of guarantee: 1 signed by the Dutch spouse as proof of financial responsibility and 1 signed by the host in the Netherlands and legalised by the Dutch city hall that the host will be responsible for accommodation of the SA spouse.
Travel insurance
Visa fee: The visa fee should be paid in full and payable by debit/credit card at the Visa Application Centre.
Please note: Incomplete applications will not be accepted.
Photo Specifications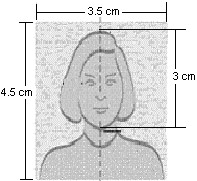 Note: The photographs submitted must meet with these specifications.
Please provide One recent photograph (not more than 3 months old) of yourself. The photographs should be in colour and:
Taken against a light background (white or off-white) so that features are distinguishable and contrast against the background.
Clear share quality and with the face in focus.
Printed on normal photographic paper (camera print).
Full face, non-smiling [without sunglasses, a hat/cap or other head covering, unless the applicant wears such items because of their religious belief or ethnic background].
Note: Please follow these instructions carefully. If photographs presented do not meet these requirements your application will be considered incomplete. Kindly download the Photo Specification file for more information.
Processing Time
The visa processing time is 10 working days under normal circumstances.
In case a nationality should be consulted with by other Schengen partners, the visa process will take longer. Please check at VFS if your nationality needs consultation before applying for your visa.
The Dutch Representation is entitled to request more (supporting) information from the applicant. Please be aware that the visa processing time in this case can take longer.
Applications submitted within 10 working days from departure can only be accepted based on well motivated & urgent arguments of the applicant (for example humanitarian: illness, death etc.) and after consultation with the Dutch Representation in Pretoria. Intake will take place at own responsibility of the applicant. The visa fee as well as the VFS fee(s) will not be returned if the intended departure date can not be met. '
It may take considerably longer if any documents are missing or if further information is required. You are therefore advised to submit your application well before the date on which you are planning to travel.
The minimum processing time of a visa application is 15 days. Applicants are advised to leave enough time between the appointment date and travel date to have their visa application processed. No guarantees can be given on the visa application's return date as delays may occur.
Download Forms
| | |
| --- | --- |
| | Schengen visa application form - Please fill in the form Online and print copies. The copies must be brought to the Visa Application CenterSchengen visa application form – Please fill form Online and Print Copies. |