Business
Visa Fees
Visa:
EUR
Schengen visa application
80,00
Children, ages 6–11 (unless otherwise stated in the Visa Facilitation Agreement)
40,00
Children, 0 to 5 years old
0
Schengen visa for citizens from the countries listed below (the EU has the Visa Facilitation Agreement with these countries):
- Russian federation
- Albania
- Armenia
- Azerbaijan
- Bosnia-Herzegovina
- Georgia
- Macedonia
- Moldova
- Montenegro
- Serbia
- Ukraine
35,00
The VFS Service fee of 45USD is required to be paid in addition to the above mentioned Visa Application Fee at the time of submission.
Payment can be made via credit/debit card (also demand draft/money order/cashier's check for postal applications). Personal checks or cash are not accepted at the VFS Center.
Who is exempt from the visa fee?
Citizens of countries outside the EU/EEA area who are closely related to an EU/EEA national
Children under the age of six
When you submit your application at the Visa Application Center which represents the Consulate General, you must pay the extra service fee stated above. This is in addition to the normal application fee.
Documents Required
Please click below link for more information.
Photo Specifications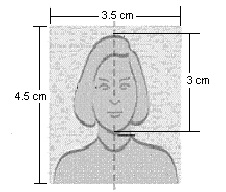 Note: We regret we cannot accept photographs that do not meet these requirements
Please provide one recent photograph (not more than 1 month old) of yourself. Please note we have additional services including photo service available at all our VFS Visa Application Centres.
The photograph should be in colour and taken against a light background (white or off-white) so that features are distinguishable and contrast against the background.
Clear quality and with the face in focus.
Printed on normal photographic paper (camera print).
Full face, non-smiling [without sunglasses, a hat/cap or other head covering, unless the applicant wears such items because of their religious belief or ethnic background]
Please stick the photograph on the Visa Application Form.
Note: Please follow these instructions carefully. If photographs presented do not meet these requirements your application will be considered incomplete.
Processing Time
The processing time is a minimum of 2 weeks.
However, processing time depends on each individual case and can take longer should the Consulate require additional documents or verifications. Applicants are advised to apply several weeks before their intended journey, but not more than 90 days in advance.