Cultural/Sports Events
Overview
If you plan to travel to Portugal for Cultural/Sports events, you must apply for Schengen visa (stay up to 90 days).
Visa Fees
Visa Fees applicable for Tourist, Family/Friend, Business, Conference, Sports and Cultural are: -
| Ages | VISA FEES IN EUROS | VISA FEES IN EGP |
| --- | --- | --- |
| Adult | 80 | 1509.00 |
| Children between 06 - 12 | 40 | 754.50 |
The above mentioned Visa Fee is to be paid in Cash in EGP.
VFS service charge
Applicants applying at the Portugal Visa Application Centre shall be levied a service charge of 717 EGP: payable in cash
Please Note:
The applicable visa fee in Egyptian pounds is as per the current exchange rate. The same is subject to change without notice.
The Visa fee & service charges is non-refundable in case the visa is refused.
Below are the additional optional services available at the visa application centre at nominal price.
ADDITIONAL SERVICE
AMOUNT IN EGP
Premium Lounge
561
Courier Delivery of the passport
EGP 121 per application (inside Cairo)
EGP 220 per application (outside Cario)
SMS Service
EGP 16.50 per application
Photocopy
EGP 2.00 (per page)
All optional services are non-refundable.
VISA Fee Exemption:
ALL TYPE OF VISA APPLICATIONS:
Children under 6 years of age
Scientific researchers, as regulated in recommendation No. 2005/761/EG of the European Parliament
Representatives of charitable organizations up to the age of 25 years, who travel to partake in meetings or conferences
Family relatives of EU- (but not Portuguese) citizen, when travelling together or upon relocation
Documents Required
Application form filled out and signed by the applicant, in case of minor children, form application form needs to be signed by both parents , to download the application please click here
One recent 35x45 mm photographs in color, of head on, with the uncovered head for gentlemen and white background.

Passport :

current passport must contain at least two blank pages
The passport should be valid for at least 3 months after return from the planned trip.
Previous passports, covering the last 7 years should containing Schengen visas. In case of first time travellers: certificate of movements issued by "Mugamma"
photocopy of data page and previous Schengen visa
Copy of all non-empty pages has to be provided.
Copy of National ID.

Certificate of employment: specifying the date of recruitment, position in the company, salary level, the purpose of travel and confirmation of leave approved.

Documents to be provided by company owner: original and copy of the commercial registry and tax card translated.
Documents to be provided by pupils /students: proof of enrollment in school/university.

Original bank statements, for the past 6 months / in the absence of bank account, proof of the other assets has to be provided.
Flight Reservation, indicating the complete itinerary of the tour, ticket should be bought only after the visa has been issued.
Hotel booking or proof of accommodation.(primary reservation).
Travel medical insurance covering the entire period of the intended stay, valid for all Schengen states and covering any expenses which might arise in connection with repatriation for medical reasons, urgent medical attention .emergency hospital treatment or death during the stay .the minimum coverage must be 30.000 EUR.

Documents to be provided by minors:

Birth certificate translated.(copy + original )
If the minor travel without his/her legal guardian: a power of attorney of both parents or legal guardian, the application needs to be signed by both parents in front of VFS Global agent, in case of one parent/guardian is residing in another country, he/she has to submit a written letter of consent to the travel.
If the minor is travelling with one parent or one of his/her legal guardian : a power of attorney of the other parent, who isn't traveling or a legal guardian needs to be submitted, in case if one parent/guardian is residing in another country, he/she has to submit a written letter of consent to the travel. Itinerary, if visiting more than one member state. Itinerary, if visiting more than one member state.

For Minors:

Student card + original letter of the school mentioning: the full address , telephone number of the school, permission of absence, name and function giving permission.

Original letter of invitation from the organiser of the event in the member state of destination.
If the document provided is in Arabic it should be translated into English or Portuguese, there is no need to translate the document if it's originally issued in English.
Photo Specifications
Applicants need to submit your Application form with the new photo format, as explained below: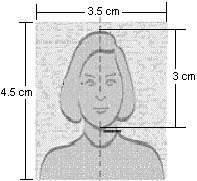 General
The photo must fulfill the norm specified by the ICAO (International Civil Aviation Organization).
Use plain light-coloured background.
The photo must be no more than 6-months old.
Not tilted picture (portrait style) showing both edges of face clearly.
Close up of the head and top of the shoulders so that the face takes up 70–80% of the photograph.
Photo in sharp focus and clear.
Photo Size
The photo for each visa applicant submitted must measure:
The picture dimensions must be 240 pixels wide by 320 pixels high at least. A smaller picture will be rejected. For instance, a photo being 235 pixels by 320 pixels is not valid.
On the other hand, the photo should keep a proportion of 3 x 4 (width x height) within limits. However, 450 x 340 pixels picture would be valid, but not a 290 x 340 pixels one.
Finally, the image weight (size in Kbytes) can never be bigger than 120 Kbytes. Finally, the image weight (size in Kbytes) can never be bigger than 120 Kbytes.
Resolution
An image resolution is measured in DPI (dots per inch) and it's mainly used to control printing quality. Therefore, higher resolution means better printing quality.
Photos resolution should be 300 dpi, so, when you scan the image, check this parameter carefully. However, bear in mind that the higher the resolution, the bigger the picture.

The only image format accepted is JPEG (Join Photograph Expert Grup Format). The other image formats such as BMP, TIFF, GIF, PNG, etc. will be rejected (a warning will be shown).

Attaching the Photo to the Application form

Glue one photograph to the application form in the designated space.
Note: If children are traveling with their parents and are included inside the passport of the mother and/or the father, one photograph for each children MUST be glued to the application form of the father or the mother, depending on whom are they traveling with.
Please follow these instructions carefully. If the photograph presented do not meet these requirements your application will be considered incomplete.
Processing Time
The legal processing time for a Schengen visa is 14 calendar days.